We have certainly been burning the candle at both ends here at Eggwhites Catering! We were thrilled to be tapped by 1 Hotel & Homes to feed their hard working teams at the soon-to-open 1 Hotel & Homes South Beach and at Top Chef judge and restaurateur Tom Colicchio's farm-to-table seafood-heavy concept restaurant, Beachcraft.
For the month of March, we have been serving over 475 team members daily!  Our menus have been following the theme of Tom Colicchio's restaurant with a focus on fresh, healthy ingredients (and plenty of agua fresca!) and green packaging.
1 Hotel South Beach
1 Hotel South Beach is one of the most anticipated hotel openings of 2015 and we are proud to be a part of it.  Designed to immerse guests in eco-friendly accommodations, 1 Hotel & Homes South Beach brings a new lifestyle to Miami Beach,  It's a simple, natural way of life with all the energy, comfort and cool of Miami.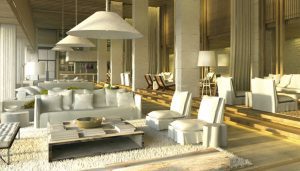 Beachcraft
Take a first peek at the Beachcraft restaurant space which will include a raw bar, cocktail bar, an outdoor terrace and private dining:
South Florida native Michael Fiorello will be running daily operations as executive chef. Chef Fiorello rose through the ranks of Philadelphia's food scene to become director of culinary operations for Iron Chef and James Beard Award-winner Jose Garces and his Garces Group of nearly 20 restaurants. Chef Fiorello joined Colicchio's Crafted Hospitality late last year and has been getting up to speed in the chef's New York kitchens.
We are looking forward to checking out 1 Hotel and Beachcraft after the grand opening in early April!