Did you get engaged this holiday season? The new year is upon us and it is an exciting time to anticipate what's to come in 2019. The possibilities are endless when it comes to choosing a wedding theme. We thought we would share some of our favorite unique wedding colors and wedding color schemes to inspire your creativity. Picking your wedding colors is an important step when deciding how to express your authentic selves at your future wedding celebration. Let's get started with our favorite Pantone Color of the Year wedding color combinations!
Pantone just released their 2019 Color of the Year and this wedding color palette is going to make you long for the soft hues of beautiful palm trees and sandy shores. Meet Pantone Hue 16-1546 - Living Coral. Pantone Institute Vice President Laurie Pressman describes Living Coral as "an animating and life-affirming shade of orange with a golden undertone."
LIVING CORAL WEDDING COLOR PALETTE
The Living Coral color palette is not new to us in South Florida. We have been decorating our homes and embracing chic coral fashion and accessories for decades. The color evokes the vitality and buoyancy of Florida's lively underwater ecosystems. "Lying at the center of our naturally vivid and chromatic eco-system, it is evocative of how coral reefs provide shelter to a diverse kaleidoscope of nature's color and serves as a source of sustanance and shelter to sea life." The marine invertebrate gets its vibrant tone from the tiny algae living on its surface. Its warmth and vibrancy speak to our "innate need for optimism and joyful pursuits," Pantone explains in its official announcement.
Living Coral feels like an appealing shade that is earthbound and welcoming, optimistic and intimate. In this digital age that many regard as increasingly cold and isolating, the convivial heartening qualities of Living Coral have hit a responsive chord.
LIVING CORAL - DIFFERENT WEDDING COLOR SCHEMES
As 2018 nears its end, our team of wedding experts are looking forward to a new year of weddings inspired by the 2019 Pantone Color of the Year. This striking hue feels both modern and nature-inspired. Its vibrancy and energy are perfect for bold couples who are looking to create a lighthearted sense of joy from your wedding color scheme.
You can incorporate the hue into your wedding color scheme with distinctive touches such as bright blooms with pops of color in your floral bouquets and floral décor. For a bolder look, you can choose the unexpected and pack a delicious punch by bathing your wedding décor in this summery shade. There are many flowers to pick from in this color palette. Coral can range in hue from more of a coral orange to a coraly pink. Some gorgeous coral blooms include coral Ranunculus, Coral Reef Gerber Daisies, Sunset Blend Garden Roses, and Coral Sherbet Big Fun Roses.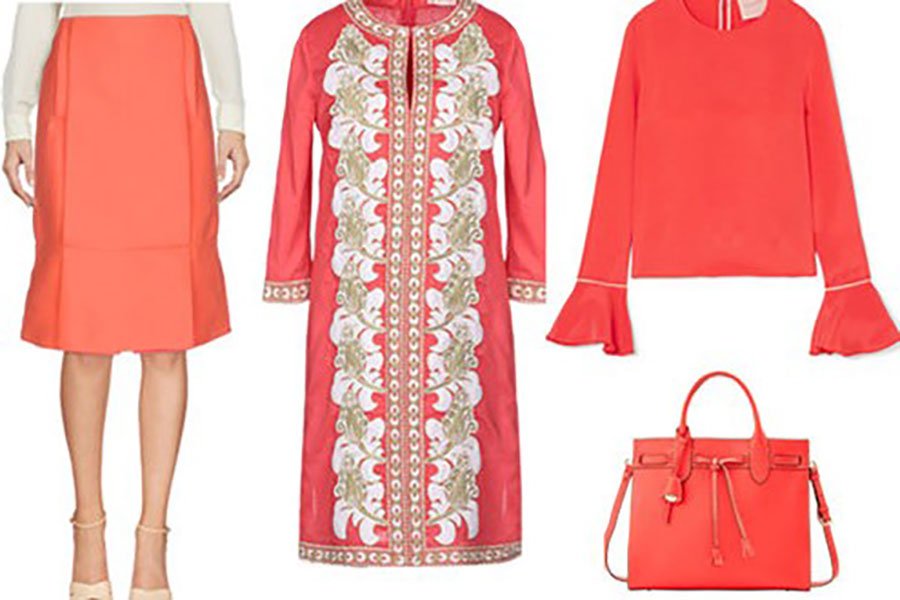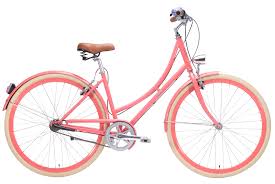 Opt for minimal accents such as coral candles, a coral table runner or sash or you can choose to pack a punch by drenching your wedding décor in this summery shade! Here are examples of our favorite coral accents: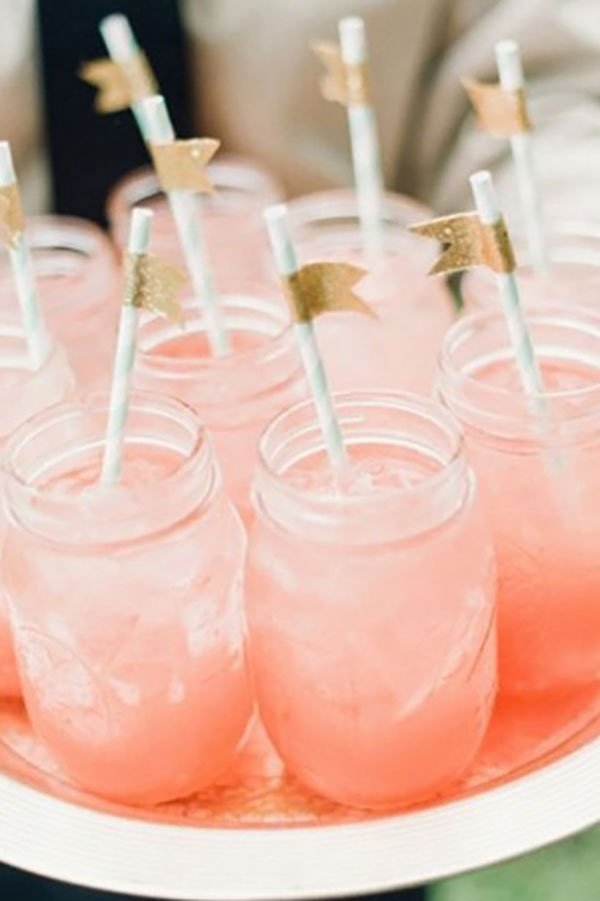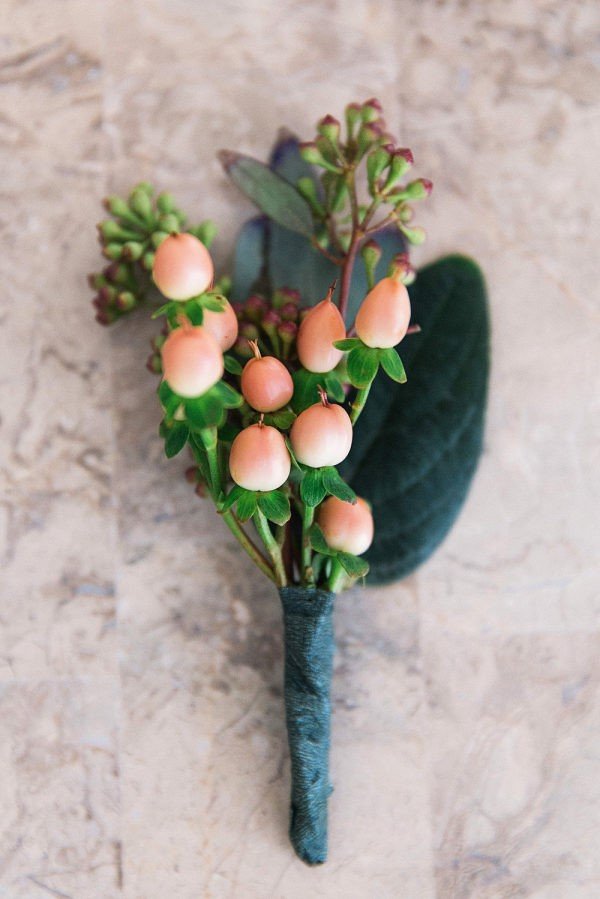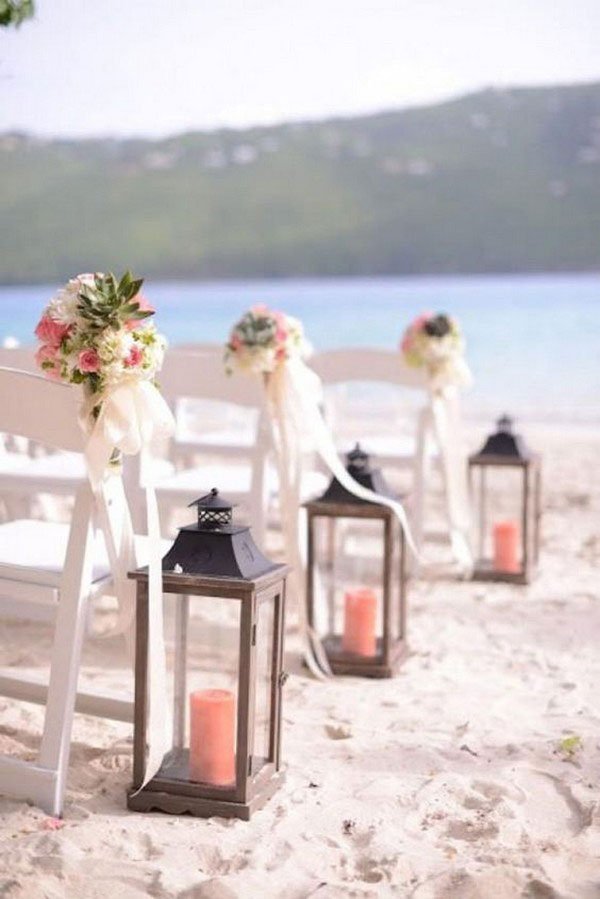 If you are looking to incorporate this of-the-moment shade into your wedding, we have put together some fresh wedding color combinations that will give your wedding a dash of personality! Coral is a versatile shade and many neutral and primary colors complement this spirited tint beautifully!
CORAL AND MINT
This pretty color combination is cheerful, fresh and perfect for a spring wedding. Coral and mint are a great choice for the couple who like a bit of whimsy and fun in their wedding color scheme. An added bonus is that mint is flattering for almost all body types and skin tones!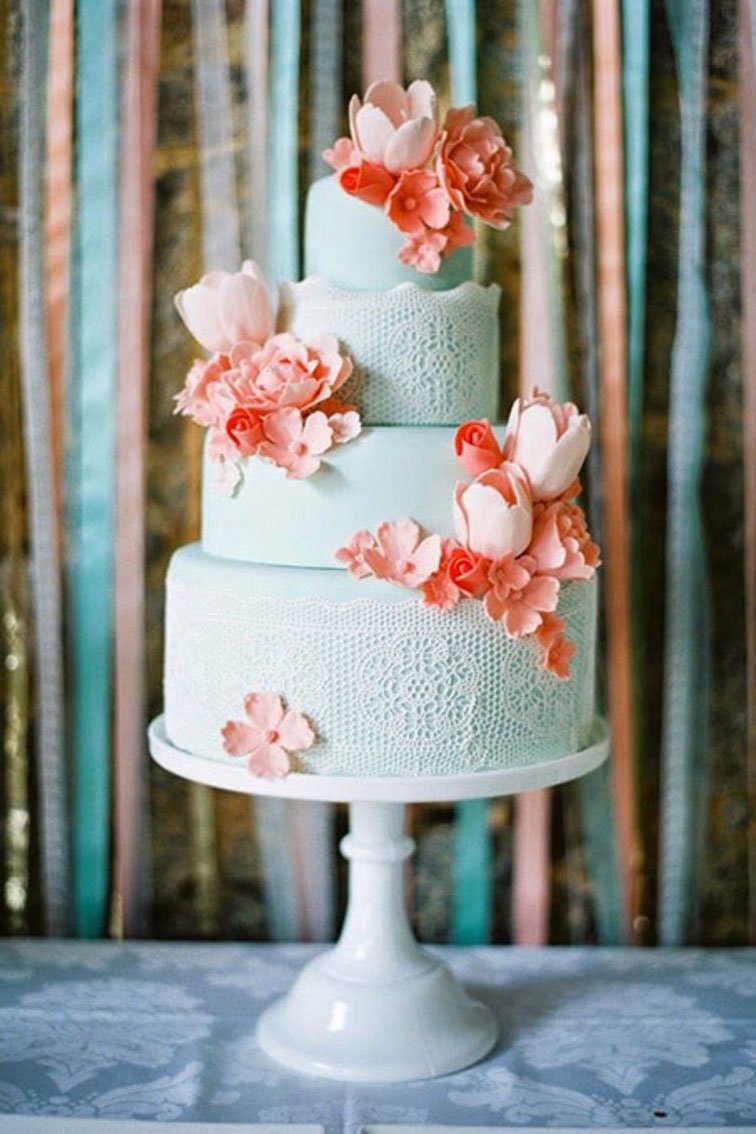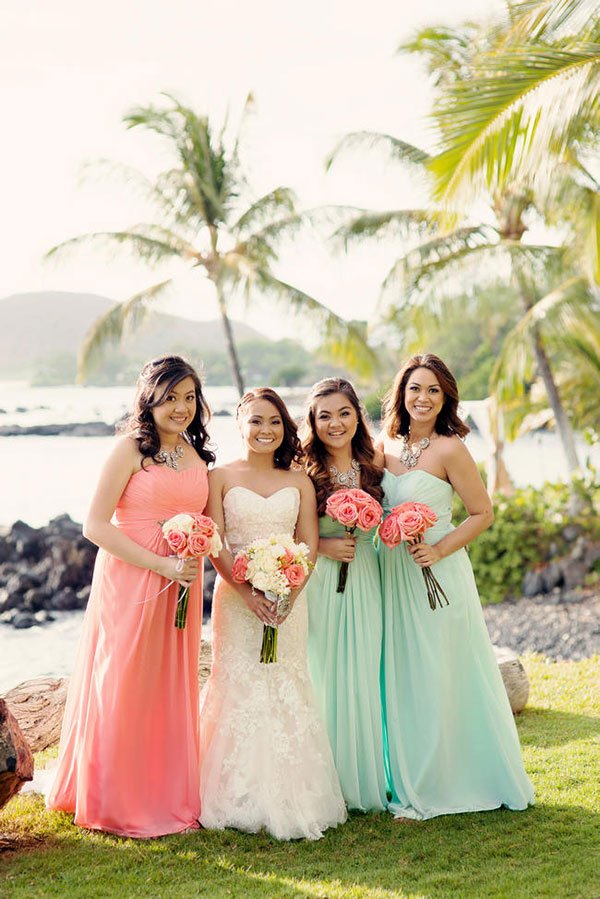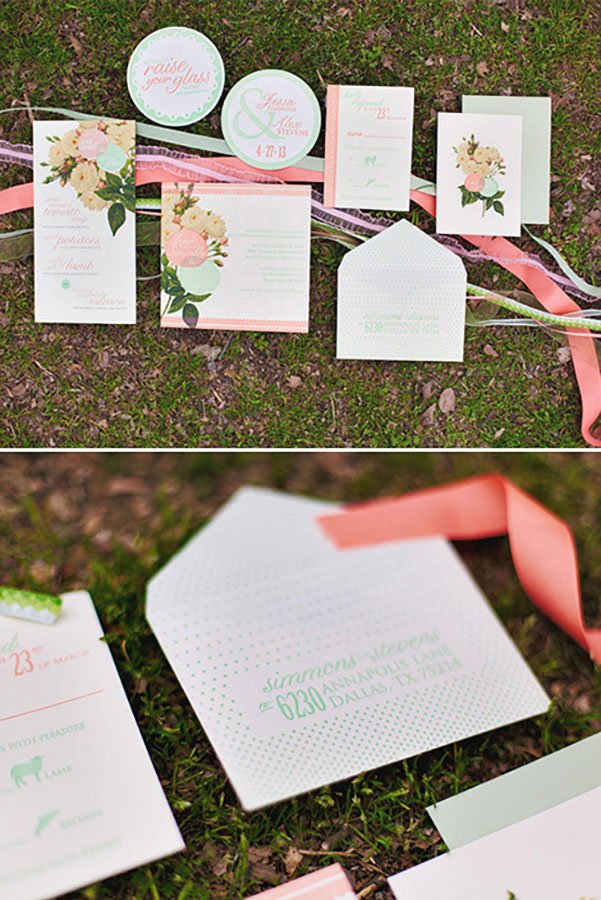 CORAL AND TURQUOISE
Bright, vibrant colors like coral and turquoise are ideal for a South Florida wedding. Whether you prefer a lush garden wedding or a coastal backdrop, coral and turquoise add a pop of color to any celebration. Set the tone with coral and turquoise wedding invitations!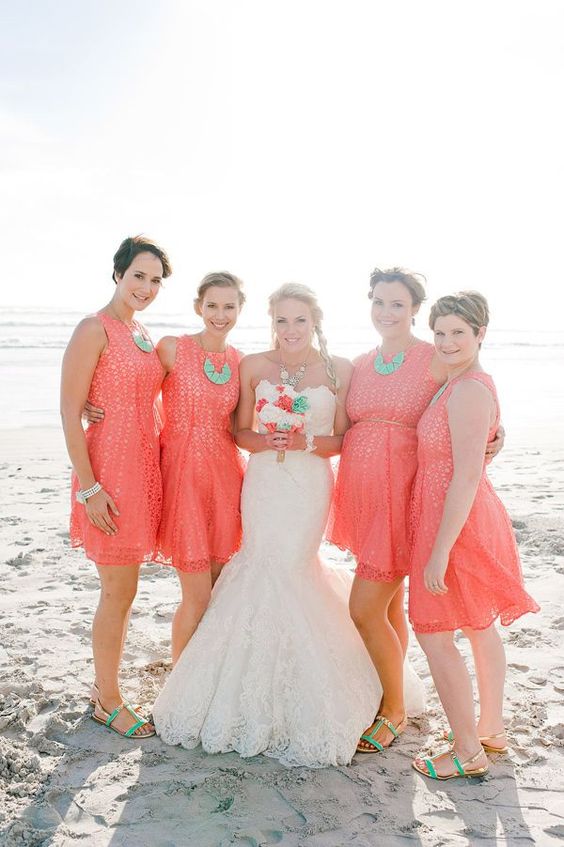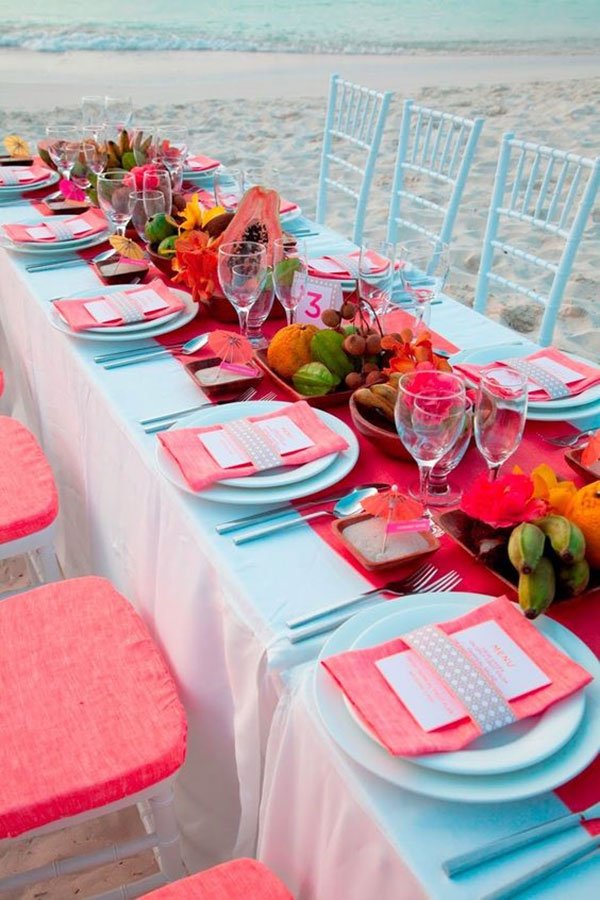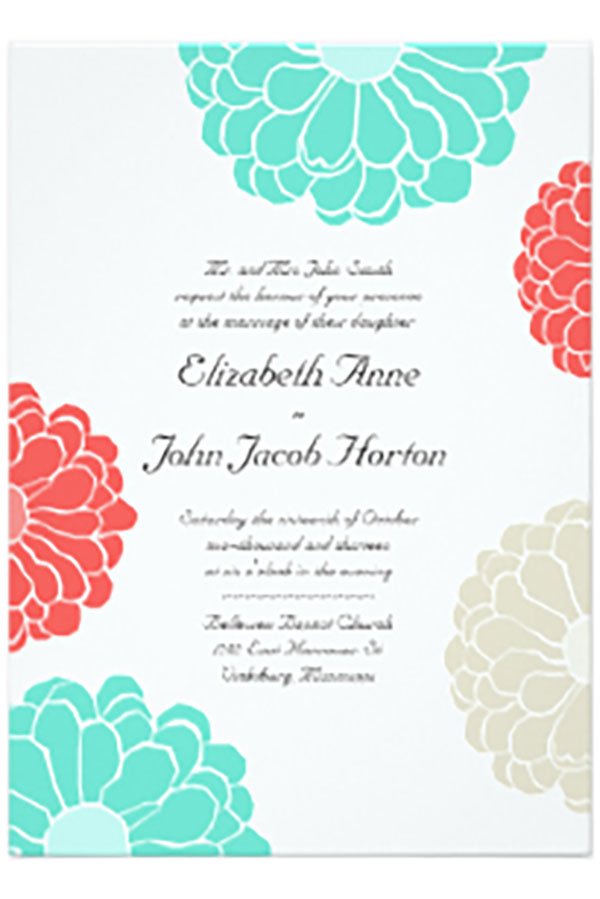 CORAL AND GREY
Coral is a surprisingly versatile color that looks great with almost all neutral color palettes. One of our favorite wedding color combinations is the pairing of coral with grey. Grey creates a comfortable and serene contemporary style. Coral stuns with light grey, dark grey and everything in between.  For a more fun and funky feel, introduce teal into your coral and grey wedding color palette!
Add a coral boutonniere to the groomsmen's grey suit for a romantic touch.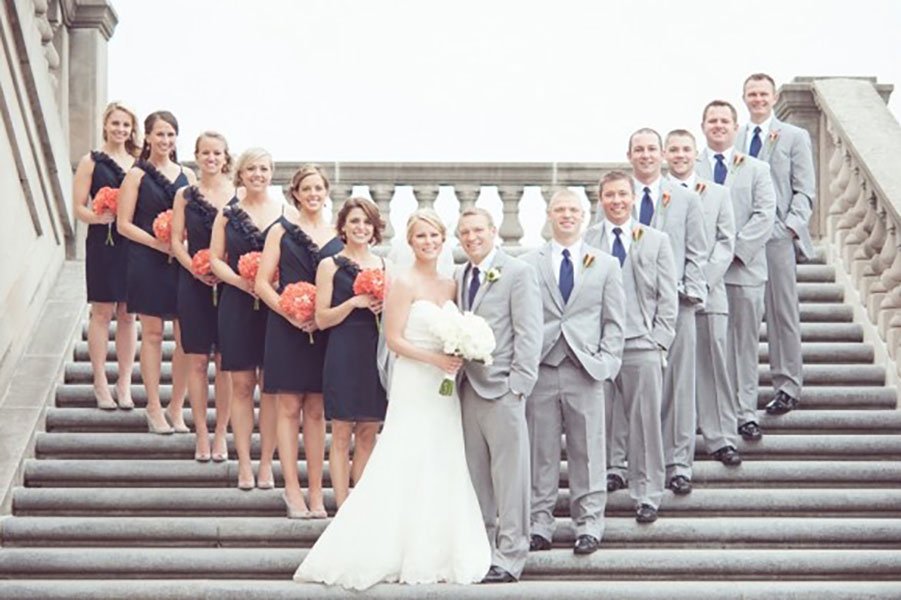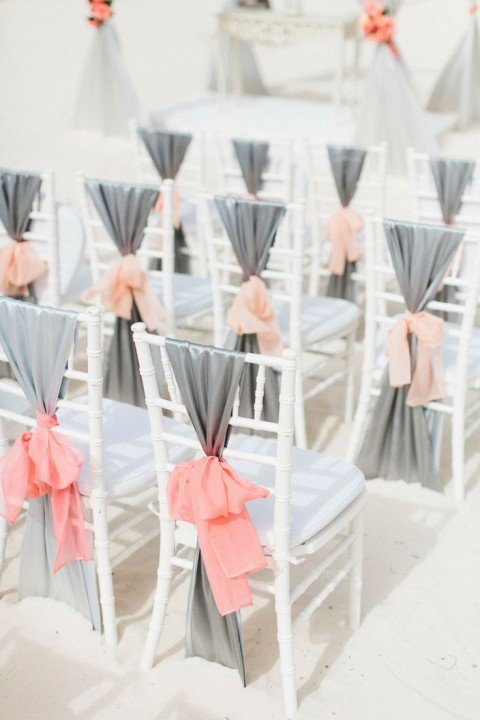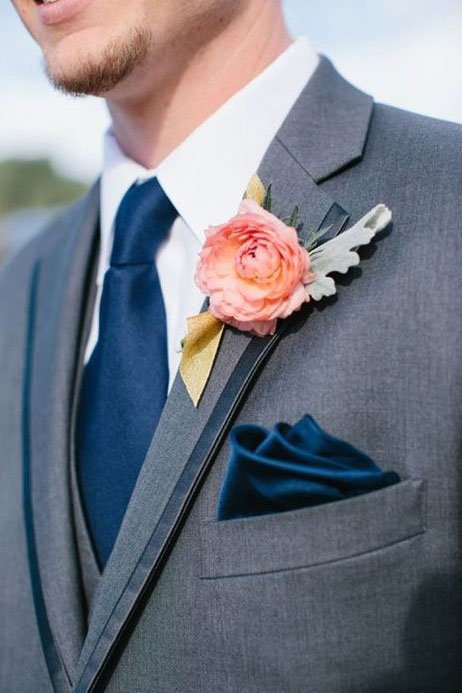 UNIQUE WEDDING COLOR SCHEMES
From alternative wedding cakes to hanging floral installations and ring bearing pets, many modern couples are tossing out the rule book, breaking with tradition and redefining what a modern wedding looks like. The traditional all-white wedding color palette of yesteryear was all-encompassing – white was the only choice for the wedding dress, flowers, linens, china and the wedding cake.
In recent decades, couples have been updating the look by boldly adding a splash of color. Now, couples are getting even more creative with unique color schemes that will have you looking at the color wheel in an entirely new light.  Where do you begin?
Below are some gorgeous yet quirky color pairings that will give your wedding celebration a dash of personality. Embrace the unexpected! Try one of these fresh wedding color combinations for a style that's all your own.
NEON AND NEUTRALS
Indie brides everywhere are raving about neon! To balance out the bright colors (and the fact that no one color is dominant), they chose beautiful neutral shades to keep the brightness from overpowering the decor. This fun and flirty theme is perfect for free-spirited couples who enjoy offbeat activities and believe that life is almost always sunny.
BLACK, PALE GREEN AND WHITE
Classic and timeless, this versatile color palette is an exceptional choice for a formal outdoor estate wedding. The color combo looks so elegant against such breathtaking backdrops as Deering Estate, Thalatta Estate or Vizcaya Estate in Miami.  The look can be rustic and elegant without being too casual.
Black creates bold, sophisticated definition. Keep the greens light, like the colors of new leaves and flower buds, and use several shades together. The dusty, natural shades of eucalyptus and succulents create a soft look and emphasize the beauty and fresh feeling of an outdoor setting.
NAVY, YELLOW AND WHITE
This preppy wedding color scheme is a favorite in South Florida because it lends itself beautifully to a nautical theme. Choose a pale yellow to really enhance the theme. A bright or dark yellow creates an entirely different feel.
This color scheme allows for many personalized details such as a custom invitation design, monograms and unique accessories.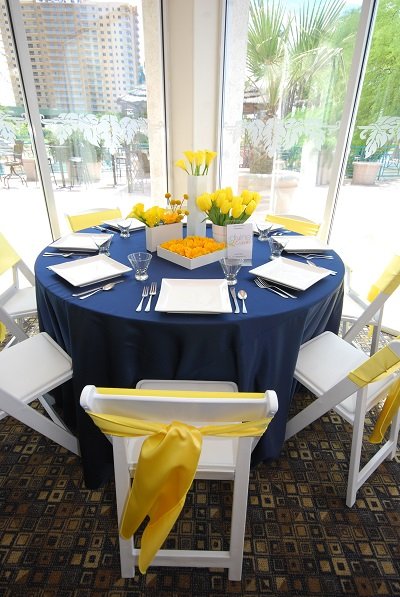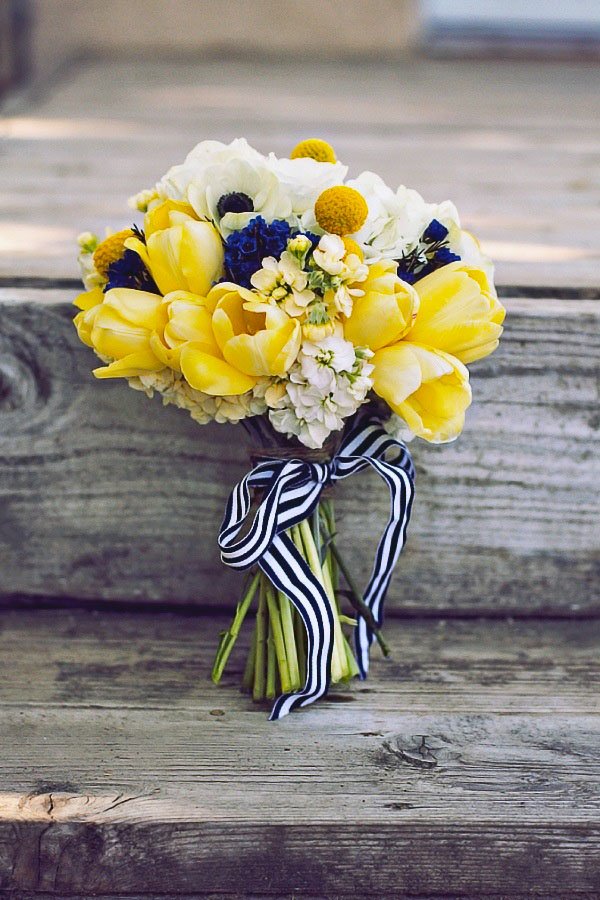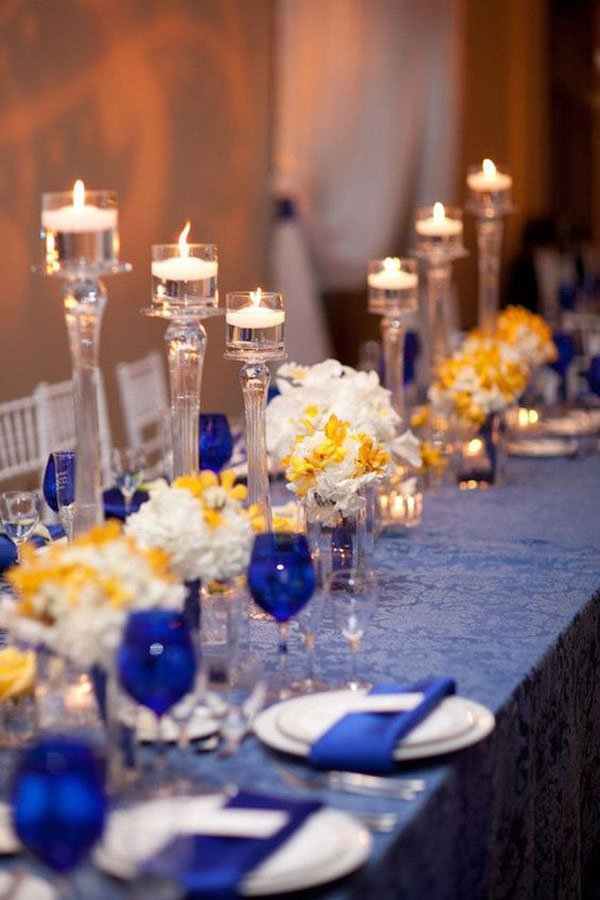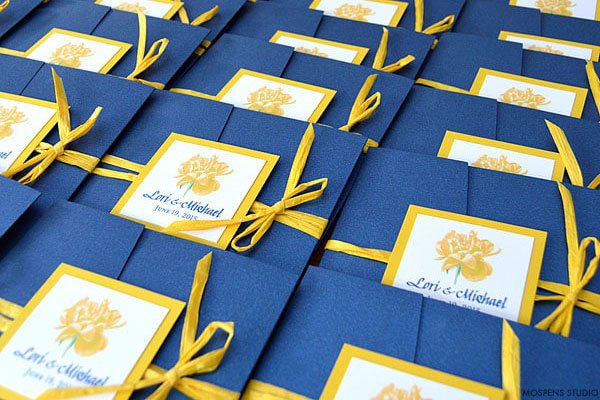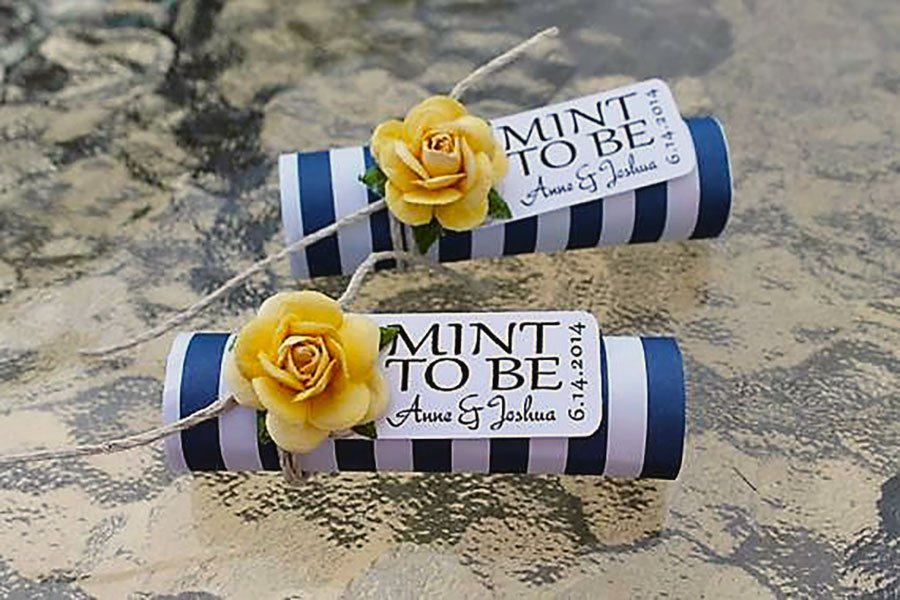 PURPLE, ORANGE AND BURGUNDY
Purple has made its way into the wedding color palette and we think it is here to stay! Purple is in fact a very versatile color. Paired with orange and accented with either black or white creates a captivating color combination. Add a touch of burgundy to create a more romantic, moody setting.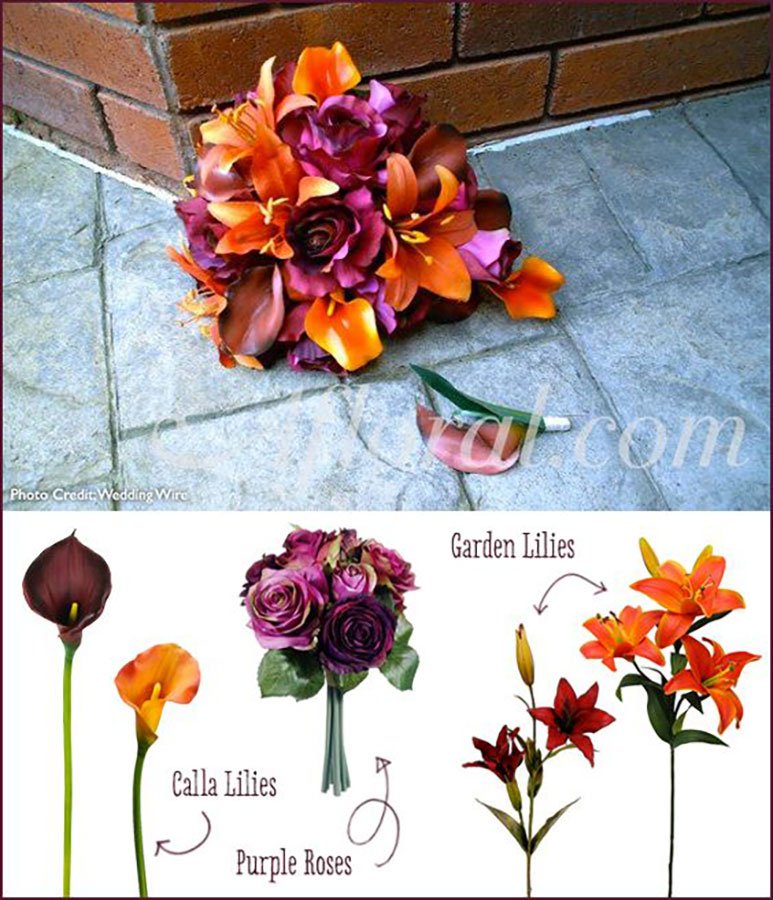 TANGERINE, ORANGE AND YELLOW
Inspired by sunshine, this color palette is perfect for a South Florida wedding! A wedding of this color palette signals that the celebration will be fun, vibrant and lively. Filled with warmth, this color scheme is extremely versatile and will work well with a modern or vintage inspired theme. Let the flowers do most of the talking with this palette by incorporating white backdrops and simple table settings so your guests aren't overwhelmed by color.
The bright orange and yellow sunset colors of this wedding cake work beautifully with the Hawaiian Plumeria flowers and seashells on the cake.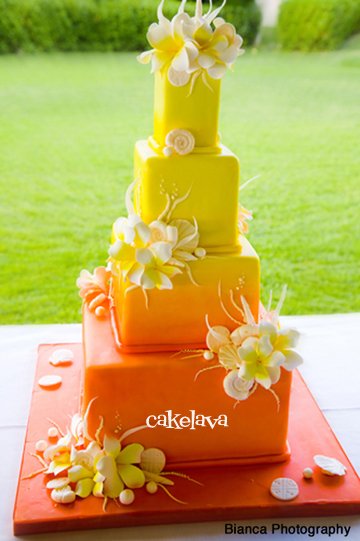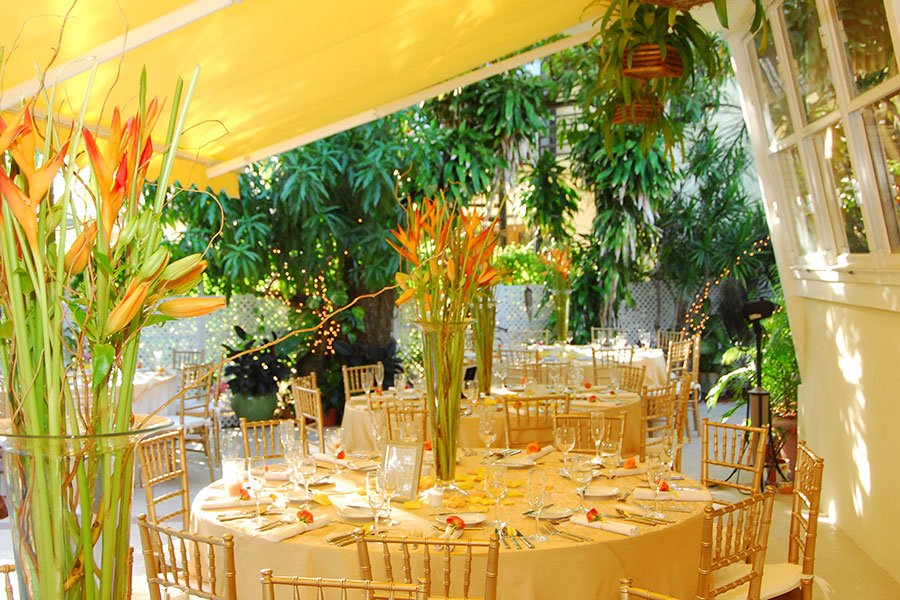 CINNAMON, YELLOW AND BEIGE
This elegant color combination has a regal Spanish vibe that is perfect for an outdoor estate wedding. The cinnamon, yellow and beige color scheme also lends itself well to an old-world Baroque style which is perfect for a wedding at the historical Ancient Spanish Monastery in Miami. Create an old-world feel with classic place settings, chargers and gold rimmed glassware. Decorate with deep, moody details for an even more romantic and intimate setting. Place stems in individual bud vases and hang floral arrangements overhead to really complete the look.
MINT GREEN AND POMEGRANATE RED
These colors are a feast for your eyes! The cool, relaxed vibe of pale green perfectly offsets the high energy pop of pinkish red. This unconventional wedding color scheme is perfect for both a modern and a retro-chic wedding theme.