The bridal shower plays an integral role in wedding planning and if you're a woman of a certain age, you've likely been to your share of them. Whether you are considering a celebration at a local event venue or in the backyard of your home, Eggwhites Catering has some wedding shower ideas and bridal shower themes that will suit any bride or wedding couple, from traditional to a more modern non-traditional wedding shower.
The bridal shower is a centuries-old tradition that gives friends and family members the opportunity to spend time together before the big day. The bridal shower traditionally was meant to "shower" the bride-to-be with gifts to help her establish her future home with her husband. Centuries ago during the days of dowries, a woman may have been refused a dowry by her family because she wanted to marry an "unsuitable" husband. So friends would gather and chip in to help them set up their home.
MODERN WEDDING SHOWERS
Nowadays many couples are older and therefore more established when it comes to furnishing their home.  The emphasis tends to be more on the celebration of this milestone rather than on traditional games and hours of opening gifts. But a wedding shower can be fun! Modern showers are mixing it up with themes, activities and different cuisines. So when you are planning a bridal shower, think about what you want everyone to remember.
Today, bridal showers are more about sharing stories and advice and enjoying a fun, carefree afternoon or evening with loved ones.  While bridal shower guests have traditionally been all women, we are seeing many more co-ed affairs which are meant to celebrate the couple as a whole.
Whether you choose to go traditional or non-traditional, there are 4 key elements to every shower:
FOOD AND DRINK
ACTIVITIES
DÉCOR
GIFTS
BRIDAL SHOWER FOOD AND DRINK
Food and drink are a big part of any shower so it is important to think about what type of food you would like to serve. Time of day is also an important factor. Food can be as simple as light bites and grazing platters for an afternoon get together. Something a little more substantial is in order for an evening cocktail party if it falls over the dinner hour. Bridal shower brunches have also gained popularity.
WEDDING SHOWER ACTIVITIES
In lieu of the same old shower games played at countless showers, get creative and try something interactive instead. Perhaps a cooking lesson, a wine or beer tasting or creating a scrapbook for the couple to enjoy for years to come!
BRIDAL SHOWER DÉCOR
Planning a bridal shower may feel overwhelming especially when it comes to décor. We are here to help you bring your vision to life for not only the food and beverage but for the décor elements as well. Determine your theme and we can bring our ideas on how to make a big impact with a few simple bridal shower decorations.
WEDDING SHOWER GIFTS – TRY A DISPLAY SHOWER
Opening gifts takes seemingly forever and takes away from socializing and fun. A display shower eliminates stopping the party for this sometimes awkward activity. The idea is that guests bring their gifts unwrapped, and they are all displayed openly at the shower for guests to peruse at their leisure.
In addition to cutting down on gift-unwrapping time, display showers are also eco-friendly and can serve as an ice-breaker for guests who spot interesting items on the table.
BRIDAL SHOWER THEMES
Take the bride's or couple's interests and make a theme out of it. Once you have selected a theme, all of the other party details will begin to fall into place. We have put together some of our favorite shower themes that we feel are unique and inspired.
HONEYMOON OR TRAVEL-INSPIRED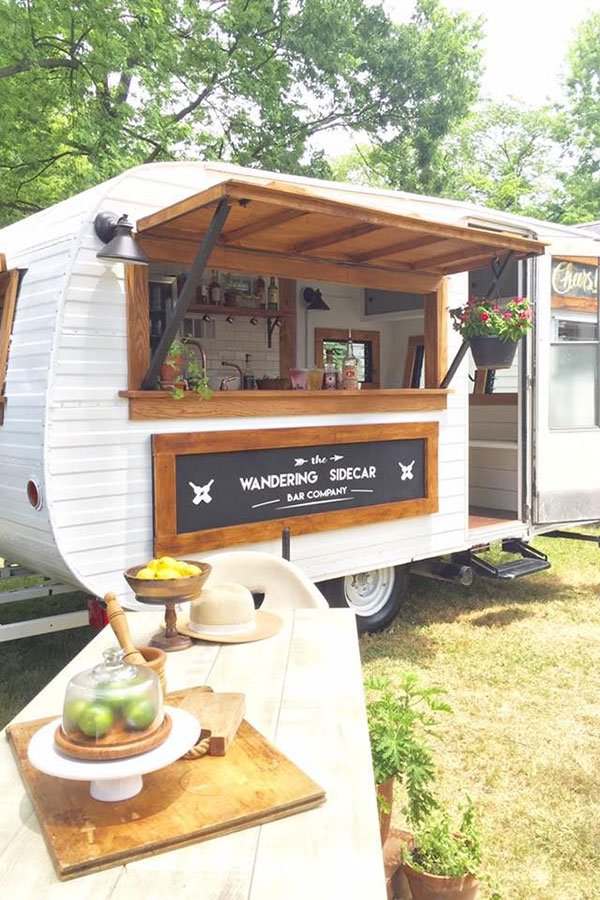 This is an excellent theme for avid travelers. If the couple has a honeymoon registry, throw them a shower that is all about their future fun. Whether it is lying on a beach, swooshing down the slopes or going to run with the bulls, tie in the food, beverage, décor and music to their big trip. Plan a tapas menu for Spain and Jerk Chicken for Jamaica. Make invitations look like boarding passes, ask guests to dress in vacation appropriate attire and design a menu with destination-specific cuisine.
Plan activities that somewhat reflect what the couple will be doing on their honeymoon: a mixology lesson, spa treatments, luau dancers or belly dancers or a trivia contest about the country.
Instead of traditional shower gifts, ask guests to give gifts that the couple can use toward their honeymoon – gift cards for spa services or restaurants, language lessons, guide books or just plain cash.
A BACKYARD PICNIC
Cheese, bread, fruit and wine serve a dual function at this party. Not only will it be part of the menu but it makes for elegant yet simple décor. You can go super casual with picnic blankets and poufs for seating or add low tables set with dinnerware and wine glasses to create a more elevated affair.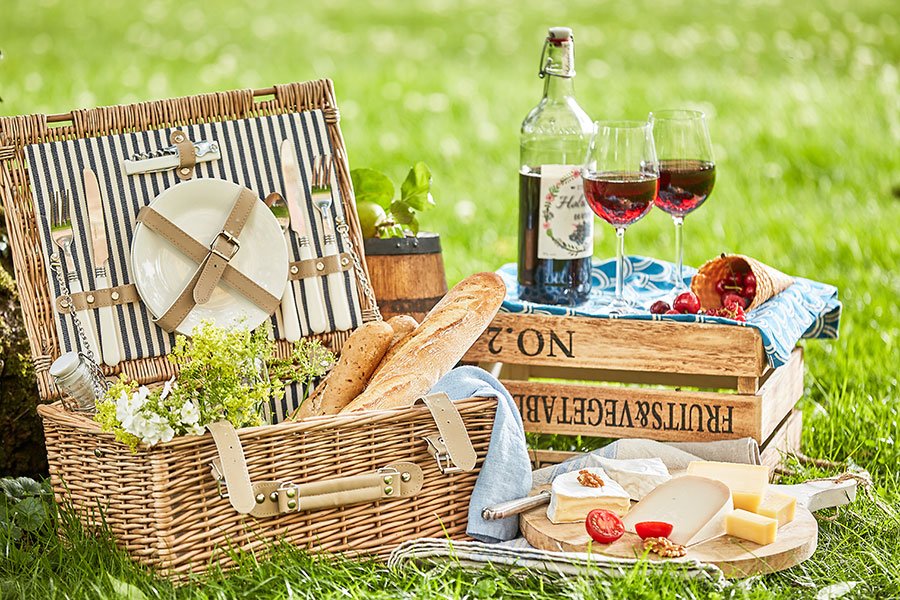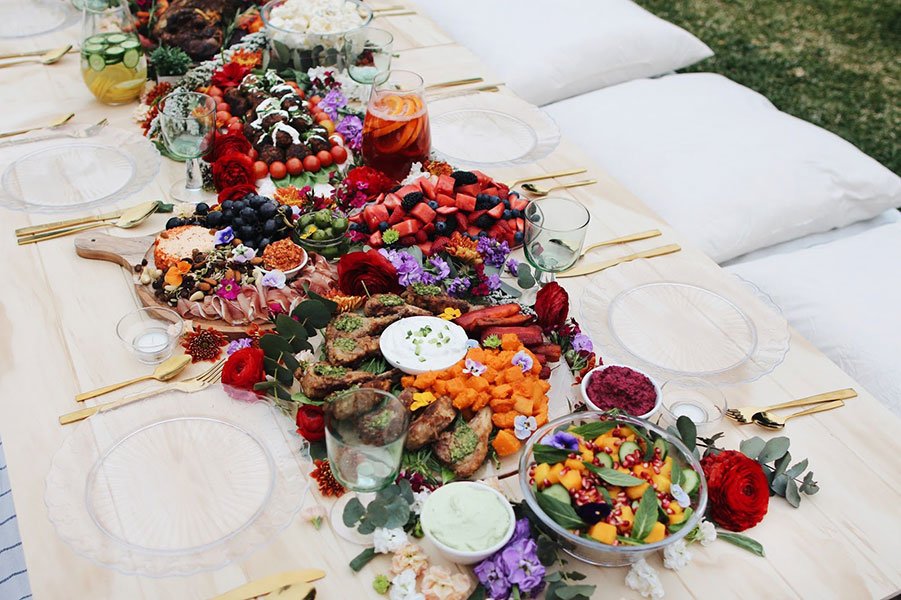 For the perfect backyard picnic, serve Pimm's Cup cocktails with slices of citrus, cucumber and mint. If bubbly is more your style, serve mini bottles iced down in a painted wheelbarrow! Serve with mason jar cheesecakes – a stylish treat that is conveniently packed into a mini mason jar. Set up a giant Jenga game which guests can jump into at any time. It is lots of fun but not as structured as other games and activities.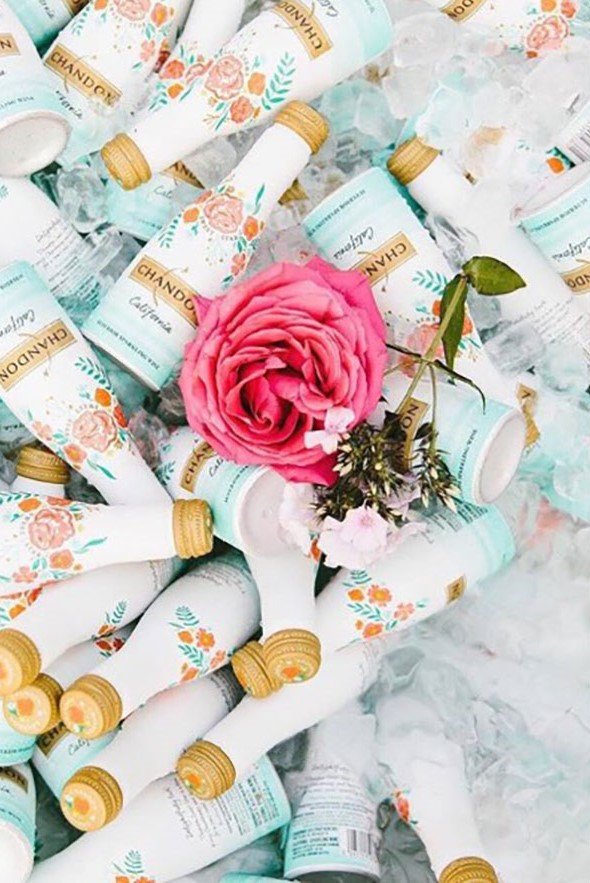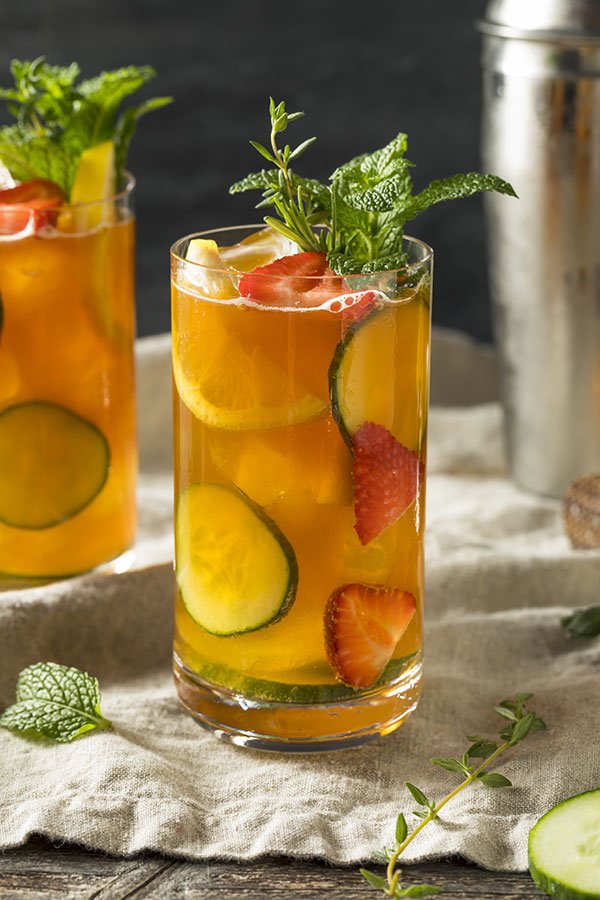 NAUTICAL
If the high seas are a-calling to the happy couple, infuse subtle nautical touches into the shower décor – no need to go overboard (pun intended). Once again, your food can serve double duty – a beautiful raw bar display is all you need for your centerpiece decor item.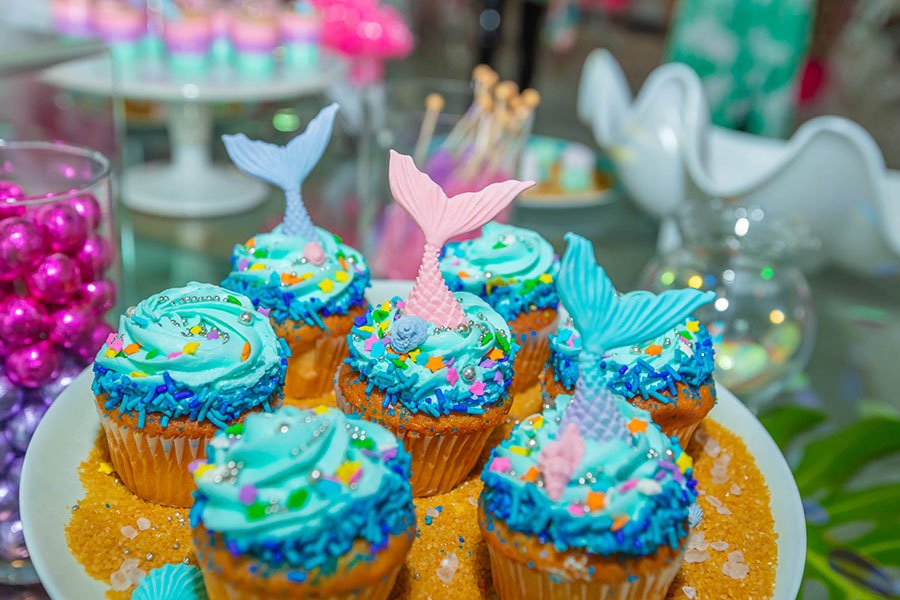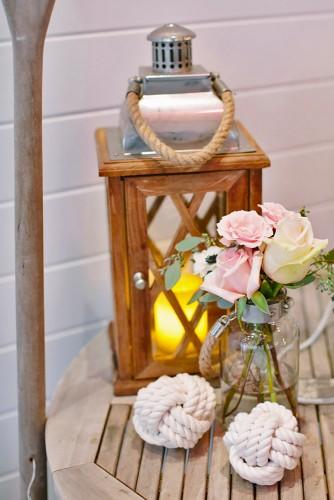 Since couples are "tying the knot", create an oceanic shower setting by incorporating sailor's knots into your decor. Cupcakes decorated with a nautical theme will most certainly make waves at a sweets table. Set up a few lawn games such as croquet or cornhole for guests to enjoy.
BEACHY
A beach-themed shower is a perfect wedding shower theme to set the tone for a couple who are planning a beach wedding. If you are fortunate enough to live in South Florida, have the event on a sandy beach and let the natural locale and a coastal palette inspire your tabletop décor, florals and cuisine.
TIP: While an ocean breeze will help keep your guests cool and comfortable, select décor with some weight to it that will not blow away. For instance, use sand dollars or seashells for place cards instead of traditional paper cards. Use wooden tables that don't require linen for seating.
TROPICAL
If you can't make it to the beach, channel a tropical motif instead. Pineapple centerpieces, monstera and palm leaves and a bright pink and green color palette will set the tone for a tropical bridal shower. Monstera can also be used as chargers, a beverage menu or a place card at your table.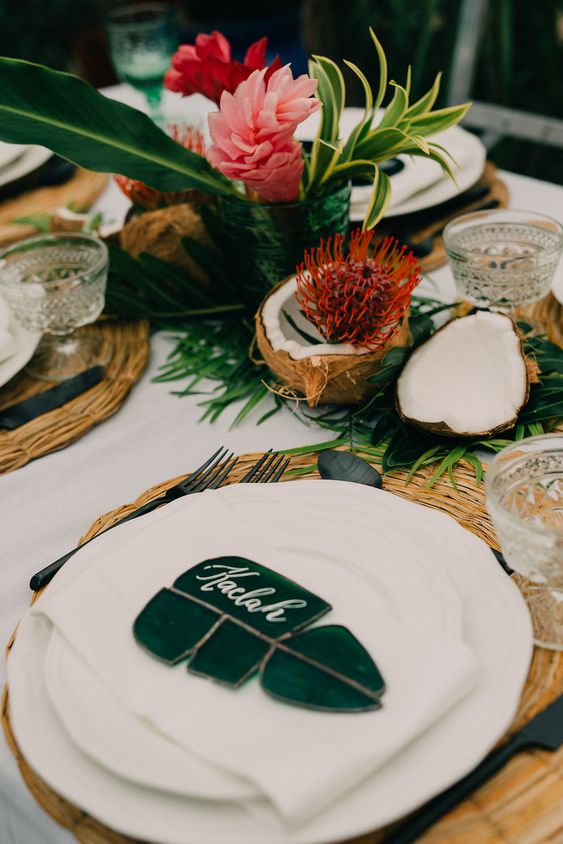 Serve assorted ceviche, grilled churrasco with chimichurri, watermelon skewers, chilled gazpacho and island spiced shrimp along with island inspired cocktails served in coconut cups.
Incorporate some wicker chargers or a rattan beverage cart into your décor to complete your tropical island theme. Give out pineapples at the end of the party. Guests will certainly appreciate this delicious and eco-friendly party favor.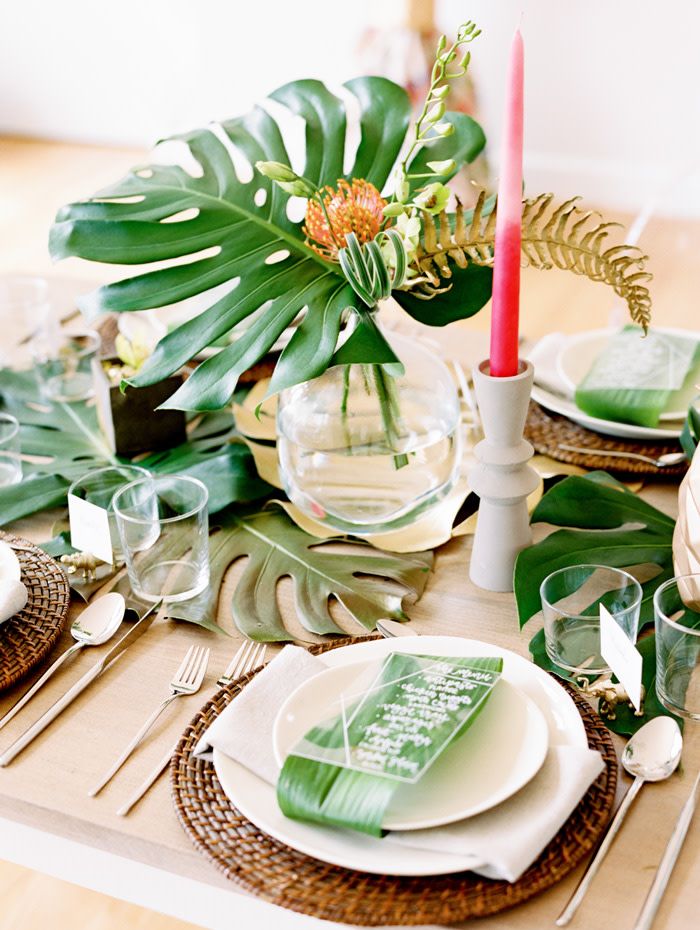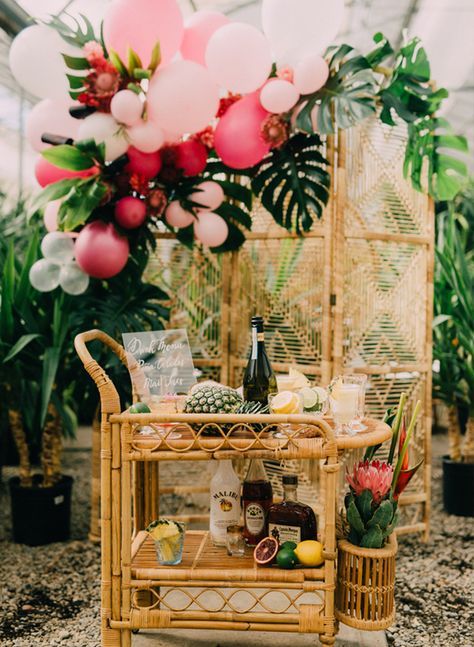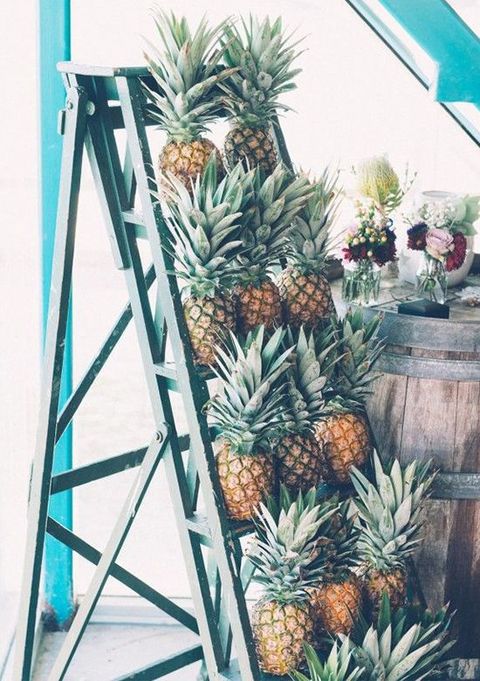 MIXOLOGY
Cocktail lovers will certainly raise their glasses to a mixology themed wedding shower. The options are many. Create a build-your-own cocktail bar with cocktail recipe cards to choose from. Hire a mixologist to create an interactive vibe at the bar or to lead a short class on how to mix a proper cocktail. Invite guests to help the couple Stock the Bar with bar themed shower gifts and libations to enjoy throughout the year (yes, you can register for your favorite wine, spirits and mixers on ThirstyNest.com and other libations gift registries).
Take your style cues from old speakeasys with colors of indigo, crimson, blush and gold. Vintage décor, table settings and hand dyed cocktail napkins will complete the look. A menu of small bites such as Tostones with Caviar, assorted cheeses and Patés and Cornbread Rounds with tasso ham will perfectly complement a few swanky cocktails.
COOKING
When it comes time for dinner, couples need to know how to cook, right?!? So why not learn a few cooking skills along with wining and dining with your friends?
Start by including a recipe RSVP card with the invitation so guests can send one of their favorite recipes to the couple along with their RSVP. Have an office supply store create a stamp for a 4 x 6 postcard. Include a place for the guests to fill in their names, response and recipe. Once the replies have been received, the shower's host can put them in a recipe box for the couple.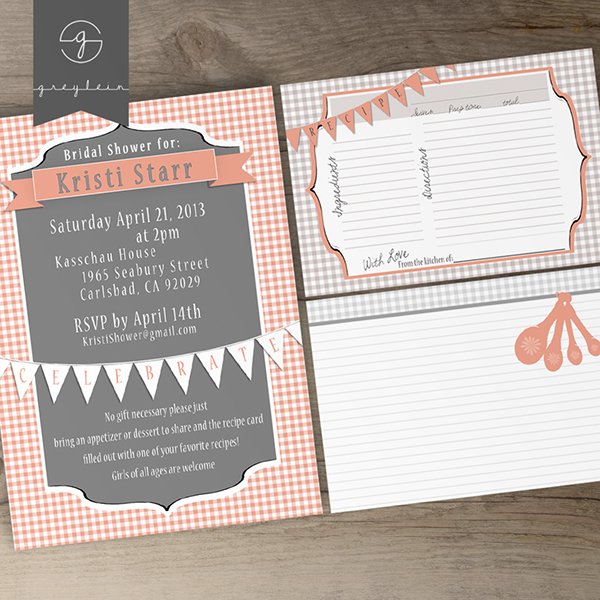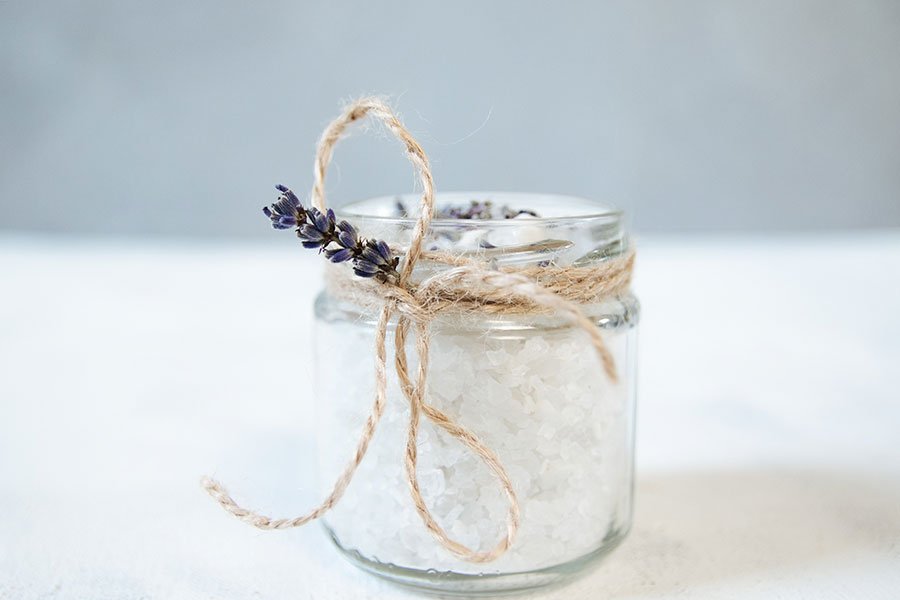 Hire a personal chef to teach a cooking class during the party. The couple and their guests will learn how to prepare a delicious meal and enjoy the meal together afterwards. The recipe will double as a party favor that guests can take home with them. Attach the recipe to a cooking tool or unique ingredient.
Incorporate food into everything from the invitations to the centerpieces. Big, bright bowls of citrus or bountiful produce are vibrant and rustic décor items that can also serve as take home gifts. We are all about sustainable décor. This trend truly takes farm-to-table eating to a new level!
Most showers these days aren't your typical bash. Couples are throwing out the rule book for their weddings and the shower is no exception. Eggwhites Catering can help you create a fresh theme and put together a party that your guests will love.
REQUEST A PROPOSAL
Ann Jones writes for Eggwhites Special Event Catering, a Miami-based luxury catering company.