UNIQUE WEDDING RECEPTION AND CEREMONY SETTINGS
More and more couples are choosing to have their ceremonies and receptions at the same venue. Couples are choosing to say their 'I do's" in distinctive venues and locations in lieu of a traditional church ceremony. South Florida is home to many beautiful, naturally lit outdoor spaces that are each unique and special alternative wedding venues. These venues provide the prettiest of backdrops for many wedding themes as well as inspiration for your wedding reception ideas.
Information regarding a number of these special locations can be found on our VENUES page. Fairchild Tropical Botanic Garden and Miami Beach Botanical Garden, for example, both boast lush tropical plants, sprawling greenery and breathtaking vistas.
Known for their Spanish Revival style and Mediterranean designs, the picturesque historic The Deering Estate and Thalatta Estate provide couples with an exceptional blend of bold character, sophisticated elegance and intimate tranquility.
With their own unique landscapes, these venues make it easy to design a ceremony and reception on their grounds. The undeniable beauty of these wedding locations deserves to be appreciated. The vibe of the setting will dictate the décor, food and choices as couples select destinations that really speak to them. Taking cues from your surroundings will provide you with endless inspiration and help to infuse your own personality into your wedding.
A TROPICAL WEDDING VIBE IS ABLOOM
A tropical motif is more tradition than trend in South Florida. We are thrilled that more and more couples have caught our tropics fever. Expect next year's weddings to be awash with bright, bold, colorful hues and daring pairings. Reds, pinks and even oranges will take a starring role in everything from floral arrangements to bridesmaid dresses and even wedding cakes!
TROPICAL WEDDING FLOWER POWER
Flower heavy does not have to mean flower packed. Fewer but bolder blooms tucked into mixed foliage bring a lot of depth and texture.
THE TROPICAL WEDDING RECEPTION TABLE
A bare, wooden table gives an organic feel to the tropical style.  The hue and gleam of the place setting's gold accents mimic the glow of a tropical sunset. Use a big philodendron leaf as a charger to perfectly tie in the tropical theme. Finally the green foliage runner softens the look of the bold centerpieces of King Protea, Alpinia, Ranunculus and Anthurium.
While giant palm leaves have been all the rage, expect the tropical trend to expand to include plants like Fern, Orchids and Birds of Paradise. Floral arrangements with texture as well as mix and match color palettes are the biggest thing in floral design looking forward.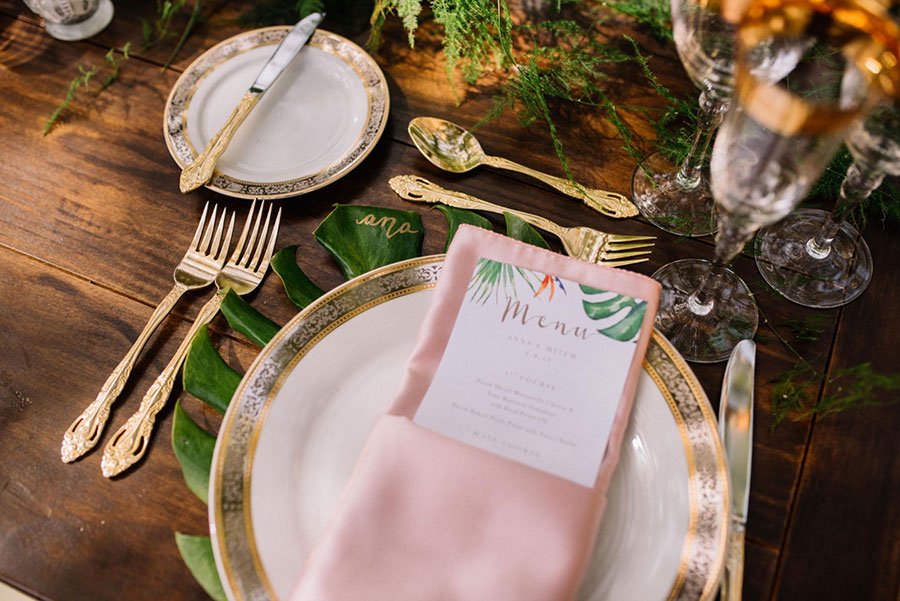 FLORAL ARCHITECTURAL PIECES GO BIG
Floral features are set to become bigger than ever, with impressive organic backdrops, hanging installations and soaring architectural centerpieces. Flower walls that complement the overall style of the celebration are a naturally insta-friendly business card for the event. Further infuse tropical style into your celebration with the use of bold foliage as aisle decor, wedding programs and reception menus.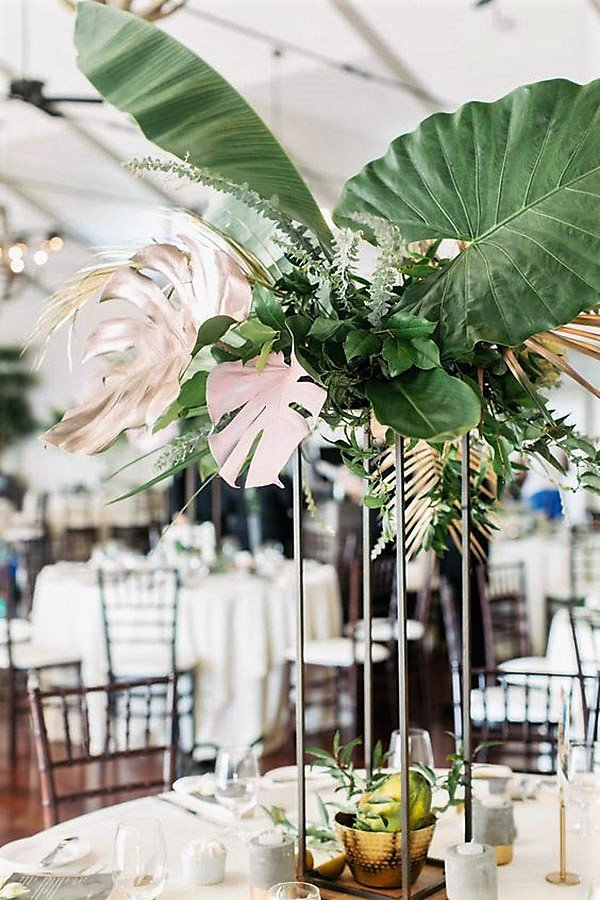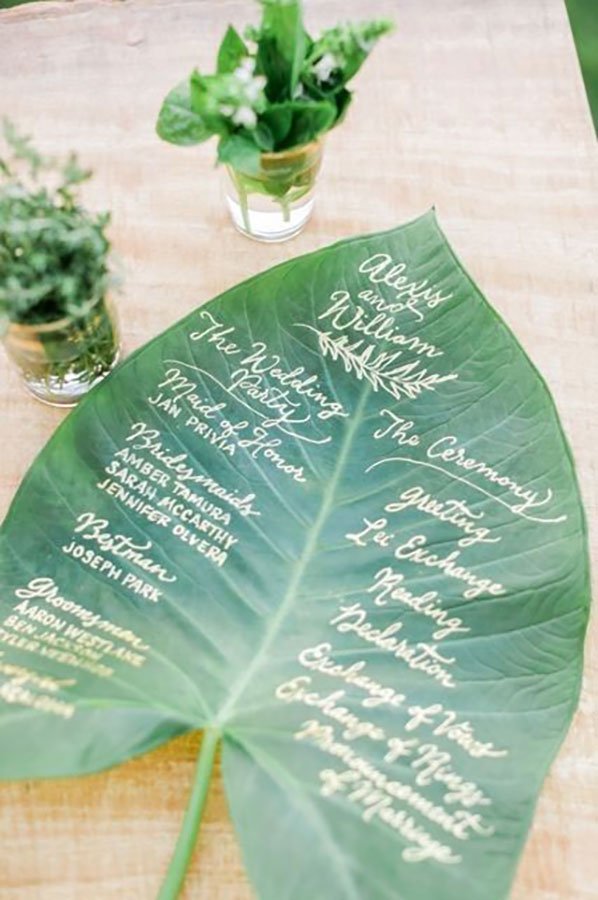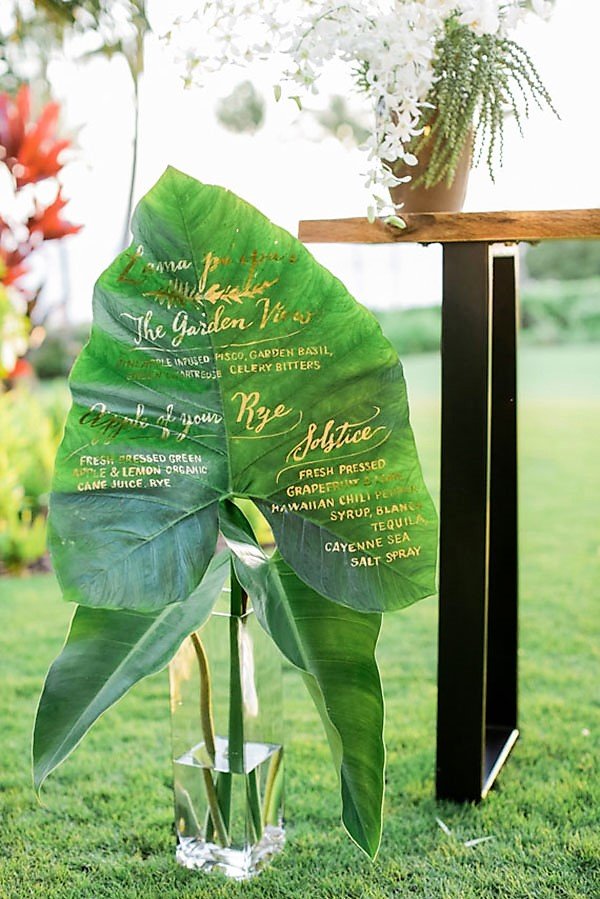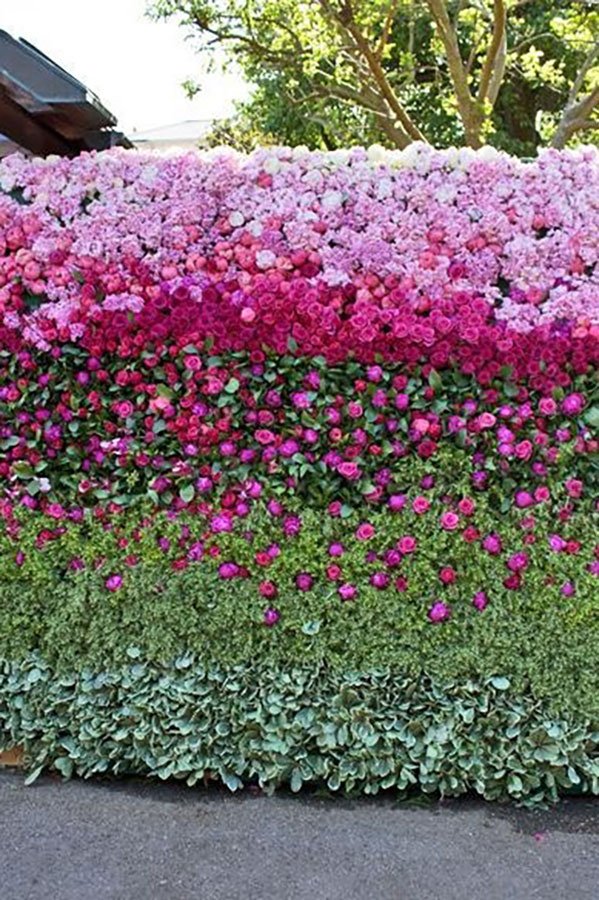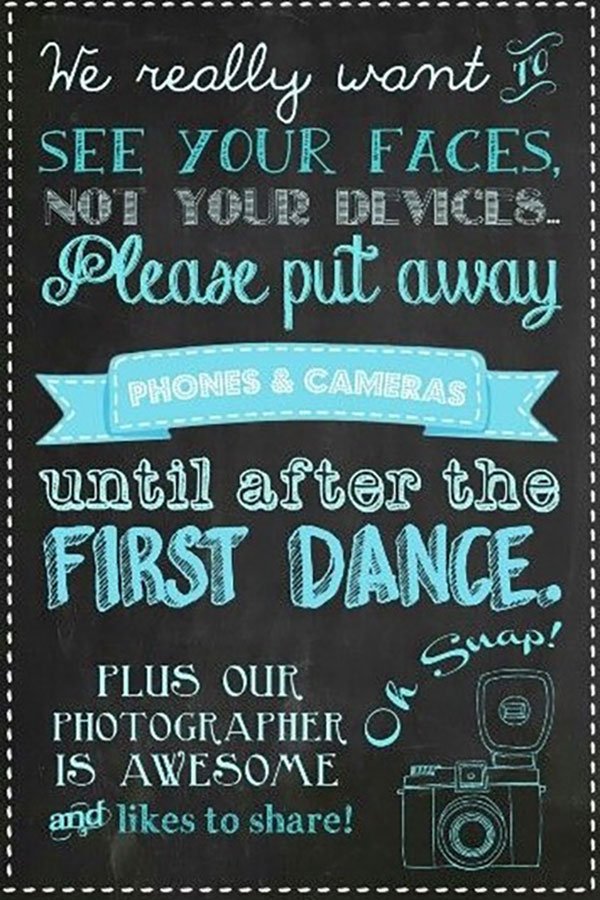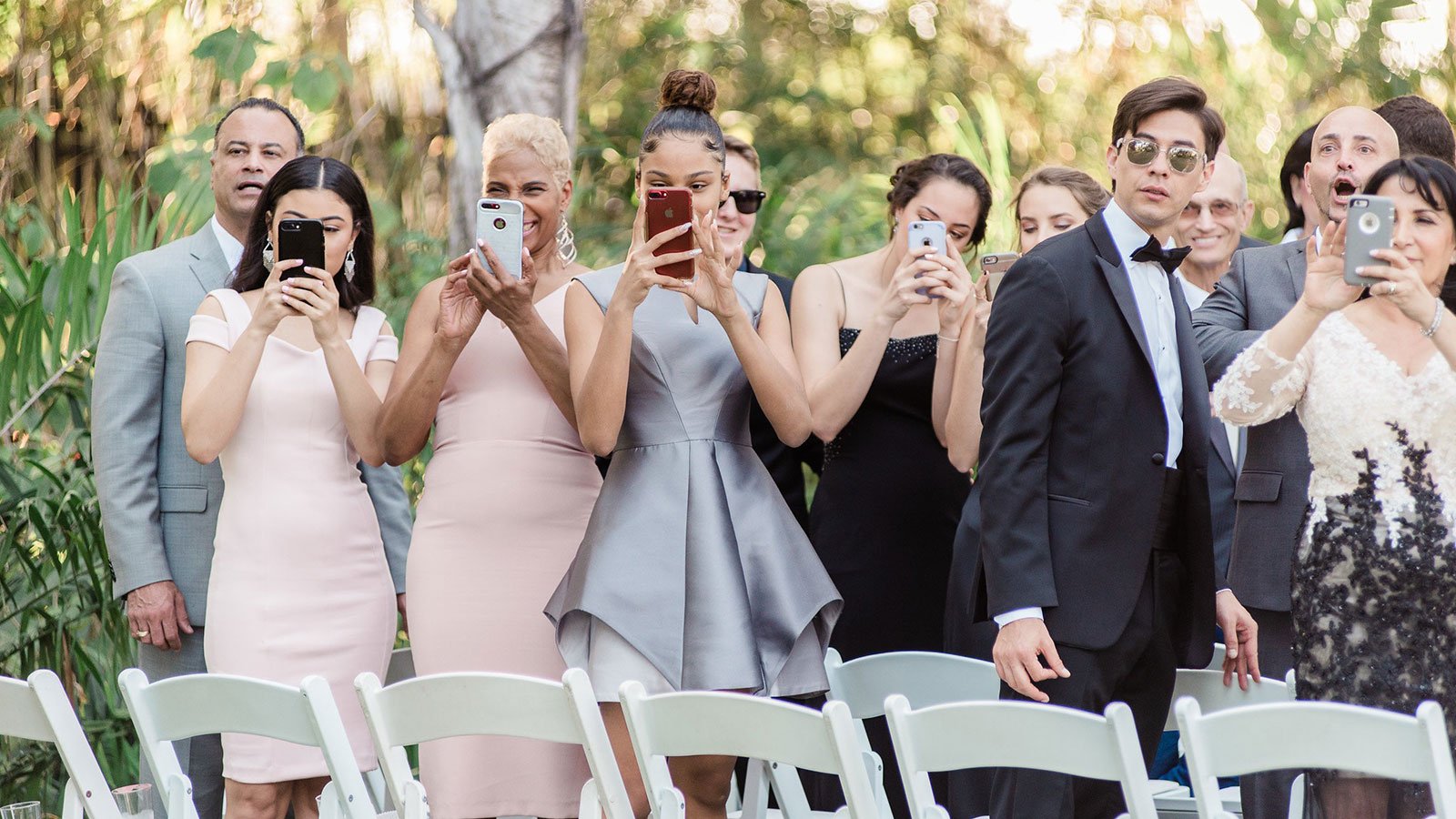 PRE-CEREMONY COCKTAILS
Couples shake up the order of events to suit their personal style. Couples are choosing to set the tone of the day right out of the gate with festive pre-ceremony refreshments. The welcome drink accompanied by a light snack is always a pleasant surprise for guests upon arrival. When you factor in travel time to the wedding and "getting ready" time, your guests may be a little peckish!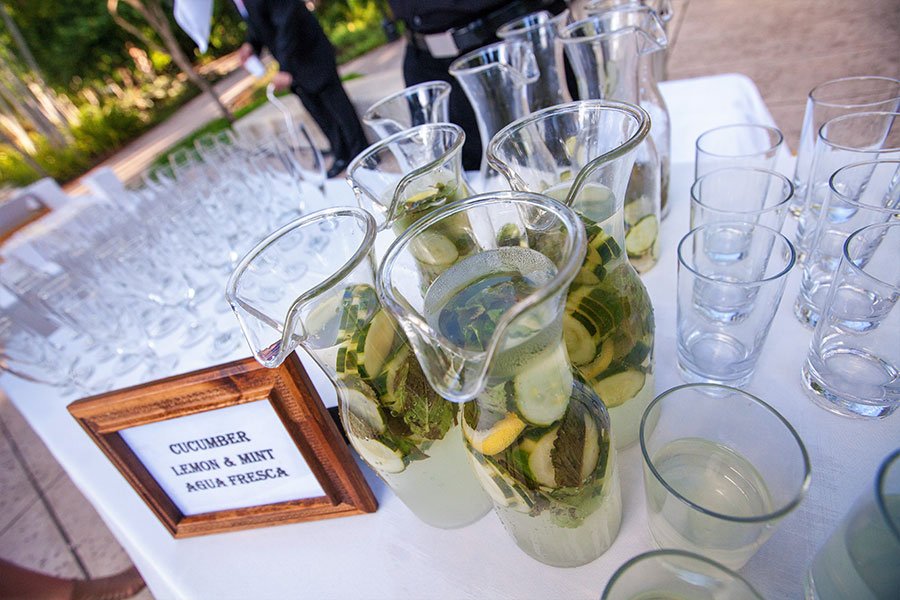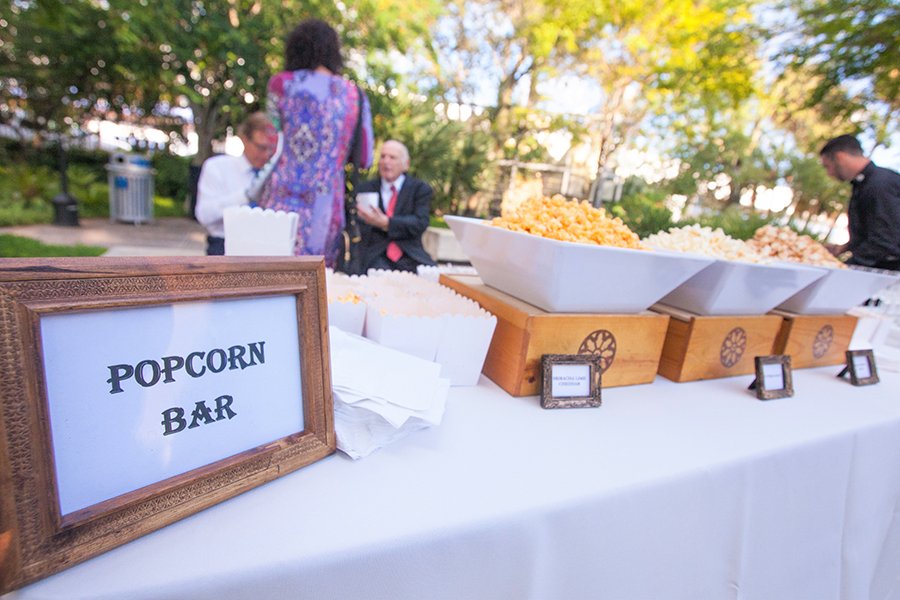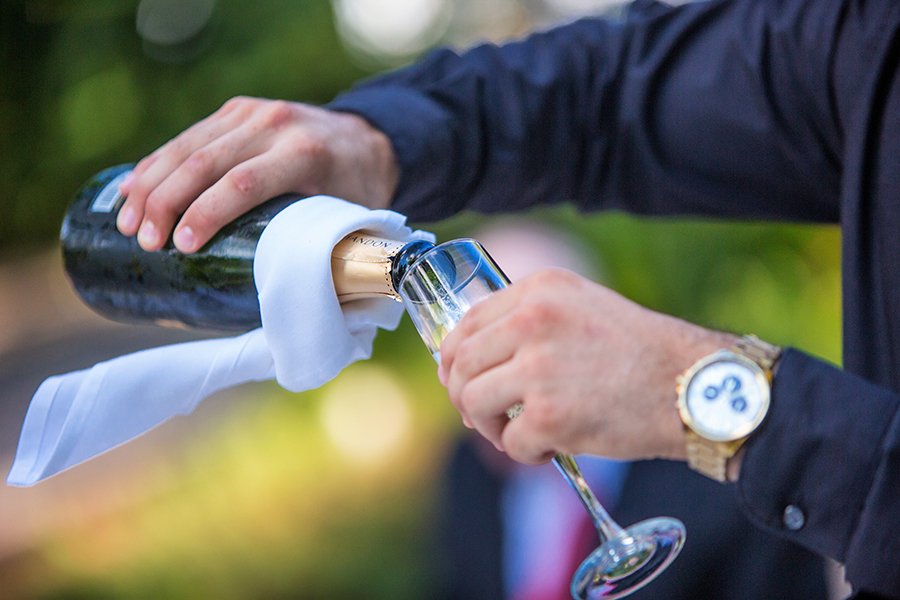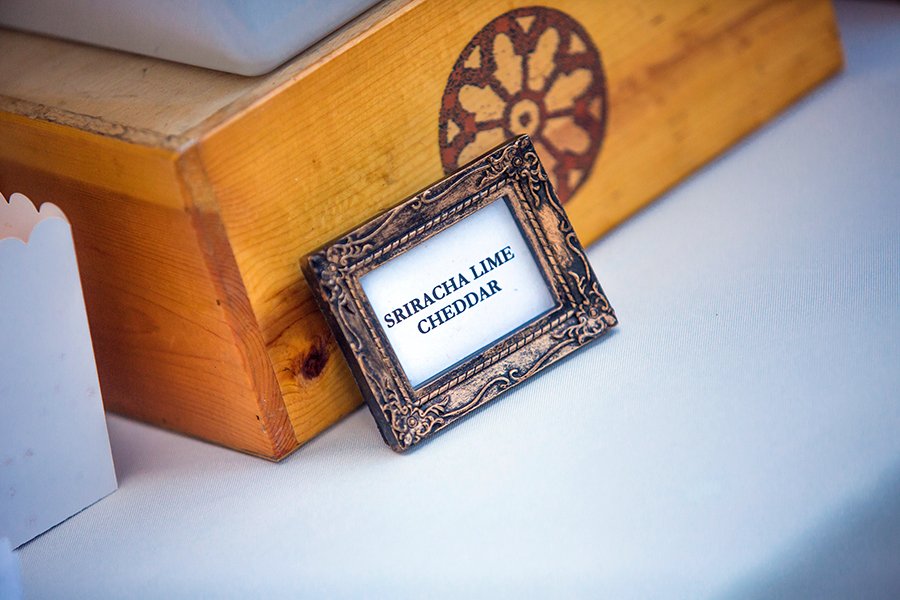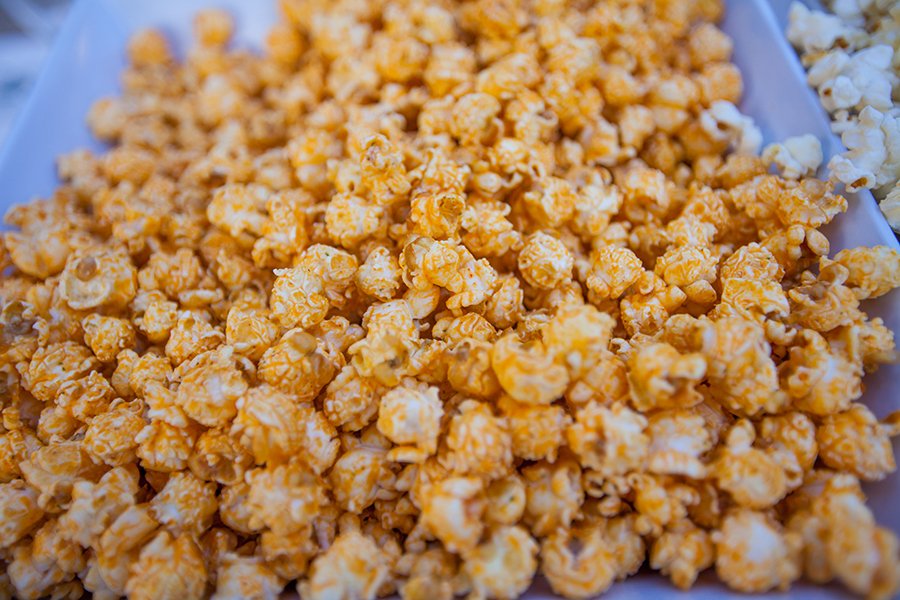 Light refreshments are an especially nice touch for an outdoor wedding. But do keep it light! You don't want your guests hitting the hard stuff too heavily before sitting under a hot afternoon sun. Consider a light champagne cocktail or sangria. Don't forget to offer non-alcoholic alternatives such as iced tea or a fruit-infused agua fresca. A light snack such as popcorn is an easy, grab and go treat to tide guests over until the real cocktail hour begins.
THE DEVIL IS OF THE DETAIL - WOW MOMENTS
There are countless ways to bring personality and create "wow" moments in a couple's wedding celebration. But a unique statement escort card and seating display is a high impact special detail. After cocktails and ceremony, guests move to the wedding reception space and the escort cards are the first thing your guests see so they are a great opportunity to set the tone for your reception, tell a little story or gift as a fun take home favor. Below are some of our favorite ideas from our very own wedding clients.
THE 3-DAY WEDDING WEEKEND
As couples seek to create a memorable experience for their guests, they are also looking to capture the couple's authentic selves. For this reason, the one-day wedding is out and the three-day wedding is the new normal. Couples are opting to extend the celebration to spend more meaningful time to make magical moments and memories with every guest.
With so many guests coming from afar, many couples schedule events before and after their wedding day. With all of their friends and family together at the same time, it makes sense to take advantage of the gathering to make the absolute most of this precious time together. The celebration kicks off with a welcome party in addition to or instead of a rehearsal dinner. Then the big day is followed by an all-important day after party.
THE WELCOME PARTY AND THE DAY AFTER WEDDING PARTY
Gone are the days of the traditional rehearsal dinner which followed the wedding ceremony rehearsal walk-through. Traditionally the rehearsal dinner guest list is kept small - the bridal party, immediate family and some out of town guests. While a small dinner may take place, couples are now embracing the idea of a "welcome party" that includes all invited wedding guests.
The day after wedding party has become an equally integral part of weddings. This party is typically more relaxed and casual. The day after wedding party is free of the obligations and formalities of the big day. Everybody is ready to kick up their heels a bit! Furthermore, who wouldn't want another day to soak up the love and laughter with close family and friends?!?
In South Florida, a beach or pool party or an outdoor BBQ are the most popular 'day-after' party.  Eggwhites Catering has also catered our fair share of events aboard yachts. This is particularly popular if many out of town guests will be in attendance. Another popular choice is a simple Brunch. Guests certainly appreciate this meal after a long night of dancing and drinking! Another benefit is there is no need for extra décor or entertainment.
Eggwhites Catering is happy to put together a weekend menu package for you which helps to streamline your process and reduce cost.
THE UNPLUGGED WEDDING
Many couples are bidding adieu to the #weddinghashtag. We may be the "selfie" generation but the swift rise of the social media wedding has caused many couples to say #nomore. This is their moment, so sit back, put away your cell phones and be present.
As couples increasingly personalize their weddings, they are finding unique ways to tell and document their story. But alas! Uncle Dan has ruined the photo opp again!  How many times is he going to unwittingly photo-bomb the planned shot so that he can get his own pictures? Or perhaps Uncle Dan used his flash at just the wrong time causing the photographer (who you paid a small fortune) to miss a crucial shot (there can only be one first kiss!). Finally, there is nothing worse than a shot of wedding guests during your ceremony only to find them hidden behind their mobile devices.
Couples can request that guests refrain from taking photos until after the first dance. You can even ask guests to refrain from taking pics and posting on social media altogether. Leave a sign at the venue entrance, a note in the ceremony program and ask your officiant to mention this at the beginning of the ceremony.