Even though it's already October, it still feels like summer down here in South Florida! Don't let the warm weather cause you to forget that Halloween is only a few short weeks away. A Halloween party is a great way to have some frightening fun with your friends and family. Chances are you're throwing a Halloween party, or going to one. Either way, you may be looking for a few clever Halloween party food ideas to brighten up the Halloween food table. There are some pretty iffy ones out there—but then there are some truly special concepts that are almost too cute, creative, or scary to eat…and definitely photo-worthy. Or you can hand your Halloween catering over to the experts which relieves you of the stress and mess of the scariest kind!
Here's a list of 15 amazing Halloween party food ideas to get your wheels turning.
BLOOD FONDUE
A treat for the taste buds and the eyes, this "blood" fondue makes an incredible addition to any Halloween party. Everyone loves fondue, and it allows you to be very creative. Add sponge cake, fruit, marshmallows, biscotti or cheese for dipping and get clever with the names.
MUMMY PIGS IN A BLANKET
Possibly the king of all Halloween finger foods, mummy pigs-in-blankets are spooky, yummy, and spectacular. There are lots of variations on how to make these—some folks like to add arms and legs, others choose not to; there is debate over whether cheese or jalapeños make better eyes—and there many fun ways to display them.
Strawberry mummies are a fun and easy Halloween party food. Strawberries, white chocolate and candy eyes are all you need to create a "boo-tiful" sweet treat!
VAMPIRE BITE AND WOLF CLAW MARK CUPCAKES
It's vampires vs. werewolves again! Not only delectable but strikingly gorgeous as well, these white-topped cupcakes with blood-red bite and claw marks will stand out beautifully at any party.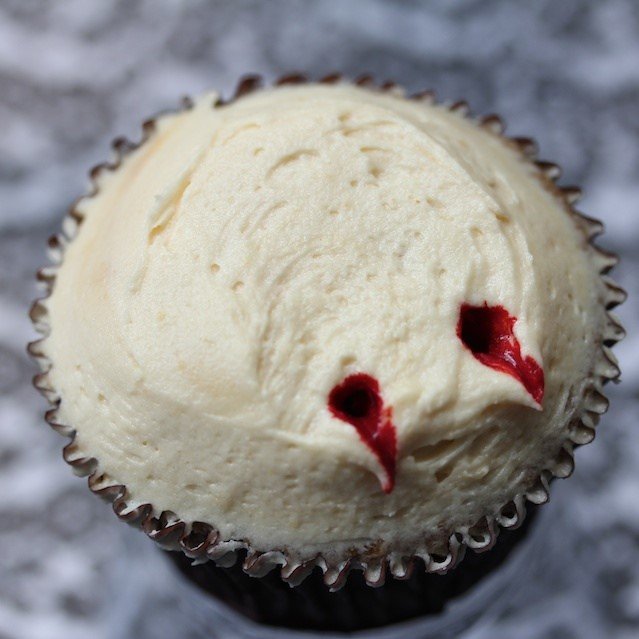 PORK RIBCAGE
If you're going for a more formal, sit-down dinner Halloween party (do those exist?), you may want to consider something more substantial than Halloween finger foods. That's where something like this amazing ribcage recipe will be fantastic. Visually exciting and savory, these ribs will be very popular.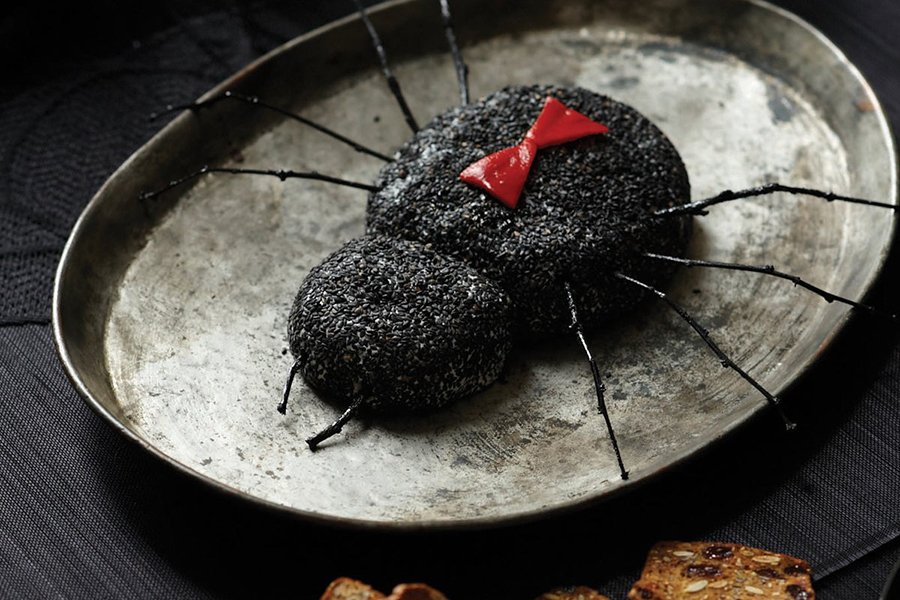 SHRIMP BRAINS WITH BLOODY MARY COCKTAIL SAUCE
Shrimp Cocktail molded into a brain shape and wrapped in medicinal gauze turns a classic into one bloody creepy presentation.
SPOOKY SPIDER GOAT CHEESE LOG
Crushed Black Peppercorn Coated Goat Cheese is as easy to make as it is delicious. Divide (20) ounces of goat cheese into two balls – 1/3 for the head and 2/3 for the body. Roll each ball in the peppercorns to coat. On a serving board, press the balls together and shape to form the head and body of the spider. Use painted black twigs for the spider legs. Cut a piquillo pepper into 2 small triangles and place them on the body in an hourglass shape and now you have a black widow ready to your guests.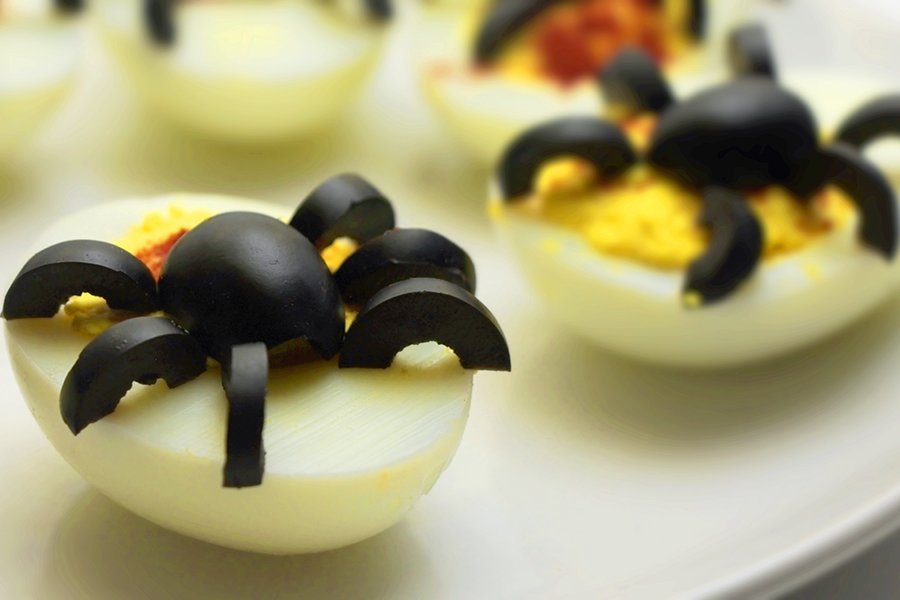 DEVIL-ED EGGS
Deviled eggs are a popular party finger food and there are a few ways to jazz them up for Halloween. A little paprika paste and a paint brush can transform hard-boiled eggs into spider webs; a sliced olive quickly turns an egg into a creepy-crawly spider!
MONSTER EYES
Deviled eggs are always one of the most popular items at a party, and these monster eye deviled eggs are so fun and creative for Halloween. Plus, you get to combine egg yolks with avocado—an absolute match made in Heaven!
CREEPY COCKTAILS
Tis Hallowe'en, And in this brew, The witch will stir, Good luck for you!
HAUNTED ICE
Toss a couple green glow sticks in your ice bucket and voila! Instant eerie atmosphere!
A VILLAINOUS HALLOWEEN COCKTAIL RECIPE
This green apple vodka cocktail will break the ice at any haunted gathering. Inspired by a favorite cult classic, Tim Burton's The Nightmare Before Christmas, this drink has all the right elements to make it Oogie Boogie-approved.
OOGIE BOOGIE HALLOWEEN COCKTAIL RECIPE
25 ounces Green Apple Vodka
25 ounces Sour Mix
Lemon-Lime Soda
Black Rimming Sugar
Candy Worms
First, flip your glass upside down and dip into a shallow bowl filled with water, or use a lemon or lime wedge to rim the edge of the glass.
Pour your rimming sugar onto a plate.
Again with your glass upside down, dip your wet glass rim into the rimming sugar on the plate. Flip your glass back around and you have a very cool, and perfectly ghoulish, cocktail rim. Pretty easy, right?
Next, add ice, vodka, and sour mix to a shaker.
Shake and then strain into the sugar rimmed martini glass.
Top with sprite and garnish with candy worms.
Fly over to the Let's Mingle blog for step-by-step instructions to create a cocktail better than your worst nightmare!
Hopefully this has given you some great inspiration for your own Halloween food ideas! It's the perfect time of year to be creative and fun with your culinary efforts. Good luck!
For more creepy, crafty Halloween party ideas, check out our blog post on 13 Inspired Halloween-themed Catering Ideas