For the lucky couples getting married in 2019, your wedding planning fun has just begun. If you are planning to say "I do" in 2019, you are most likely looking for wedding ideas and inspiration. We at Eggwhites Catering would love to share our findings with you on the wedding trends of 2018 that will carry through the new year (and a few that won't) and a few new trends we are starting to see emerge as our wedding clients start to look towards the new year. But it is only June, you say?! That's right! It is called "wedding planning" for a reason.
There is one constant that we know for sure – make it memorable!! Couples are seeking to create a unique experience for their guests that truly captures the couple's authentic selves – individually and together.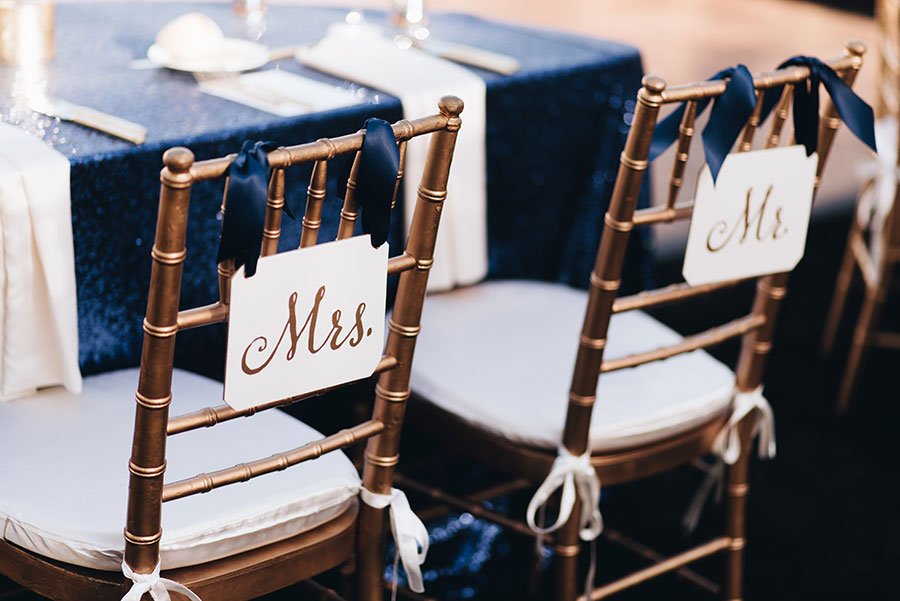 From food and flowers to décor and attire, here is our forecast for the trends we expect to be hot for the upcoming year.
THE EVENT – SMALL AND INTIMATE WEDDING OR LUSH AND LAVISH
Intimate gatherings and grand fêtes are both having a moment. There seems to be no in-between.
INTIMATE WEDDINGS
Intimate weddings continue to grow in popularity and are an especially favored choice by couples who choose to have a destination wedding. A destination wedding is a magical intimate affair that allows the couple to extend the celebration and spend meaningful time to make memories with each and every guest.
An intimate wedding gives you the opportunity to interact with loved ones in ways that simply aren't possible when the guest count tops 100.
Smaller gatherings tend to give you more room to show off your personalities. For example, many couples now wish to include their canine companions in their wedding day. A smaller wedding lends itself to making sure your furrbaby is taken care of throughout your celebration!
Couples work closely with caterers such as Eggwhites Special Event Catering to put together a menu that is personal and special to them.
Tables are often arranged in long rows. Communal dining looks stunning and feels more personal and intimate. The tables do take up more space but this is easily solved in South Florida by choosing to have your wedding reception at one of the many wedding venues that offer fabulous outdoor spaces.
LUSH AND LAVISH FÊTES
At the other end of the spectrum are grand fêtes thrown by couples who consider this a once in a lifetime celebration with all of their loved ones together at the same time.
A mix of round, long and square table shapes help create more cozy groupings for your guests.
You can also create the illusion of intimacy by dividing grand spaces into cozier vignettes with the use of lounge furniture and strategically placed potted plants. Interactive food and drink stations also help to naturally break guests into smaller groupings - until you want them all together on the dance floor!
WEDDING FOOD TRENDS
SIGNATURE FOOD STATIONS
Wedding food, drink and desserts are getting more creative every year. While buffets and served dinners will never completely disappear, we are seeing more couples incorporate food stations into the wedding menu. Food displays may be available to guests who wish to graze during cocktail hour. There is comfort in knowing that there is something for everybody to enjoy in addition to passed hors d'oeuvres.
Themed dinner food stations are also becoming trendy. Food stations offer more of an experience for the guests and are especially popular in South Florida which is considered a melting pot of many cuisines. Guests get to sample many tastes and flavors at stations like an Oyster Bar, Ceviche and Poke Bowl station, a Brazilian Churrasco station with a selection of carved meats, a DIY Risotto or Tostones station.
Weddings not only unite hearts but also family heritage, shared and solo life experiences. Couples are now also personalizing food stations to tell their story. Here are some ways the couples are demonstrating this union through signature stations.
His and Hers stations (or His and His or Hers and Hers) – Both individuals work with the caterer to create
their own customized station that reflects their personal tastes.
Tell Your Love Story – Think back to that first date, first dinner you ever cooked for each other, or a
memorable trip you took together. Did you win her over with your Puttanesca Sauce? Let your guests know!!
Pay tribute to your families with stations that reflect each of your roots. This is certainly open to
creative interpretation. We have incorporated everything from Mango Lassis and Vegetable Pakoras to Jamaican Callaloo Patties to Wisconsin Cheese Curds into our menus.
Signature craft cocktails are here to stay. So offer a drink pairing with your station menu items.
SMALL PLATES
Small plates have been building in popularity for some time and it is easy to see why. Small plates are appetizer size portions which may be passed, presented on grazing tables or served as small courses. This menu option gives couples an opportunity to offer a variety of delicious foods to sample rather than one larger main course. Guests get to experience lots of different complementary flavors, textures and presentations. These small composed dishes are very appealing to our clientele's sophisticated palates and small plates tend to be great conversation starters in today's foodie world.
Here are some of Chef Gary's favorite small plates:


Seared Sea Scallop with Wild Mushroom Risotto and Truffle Oil


Filet Mignon with Gorgonzola, Soufflé Potatoes and a Port Wine Demi-Glace


Sauteed Gnocchi tossed with Butternut Squash and Mushrooms in a Sage Brown Butter Sauce
LATE NIGHT SNACKS AND EXPERIENCES
While late night snacks are not exactly a new phenomenon, what is new is that couples are creatively elevating the late-night snack to play a role in the overall guest experience. Couples are choosing to give guests an extra special after-dinner treat instead of the traditional takeaway party favor.
Some of our favorite late night snacks include freshly baked cookies and ice cold milk. Freshly baked cookies fill the air with a delectable, warm and comforting aroma that will stick with your guests' memories long after the wedding night. Mini Chicken and Chocolate Waffles with Cognac Maple Syrup offer a savory twist on the late-night breakfast favorite. We like to give the iconic late night tacos of our college years a mini makeover. Add a mini margarita and lime and this snack 'n sip is a perfect treat to beat the Miami heat.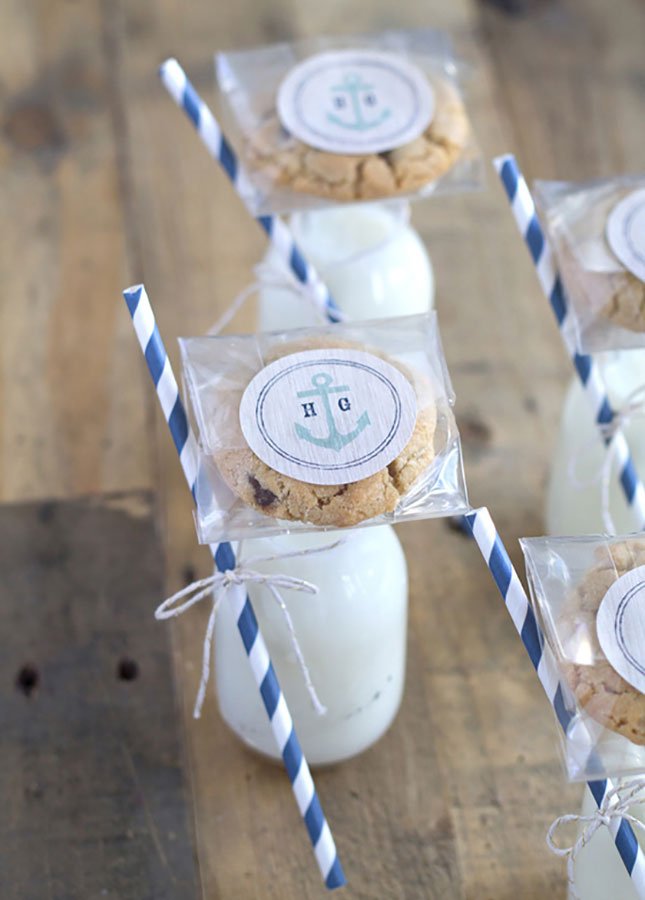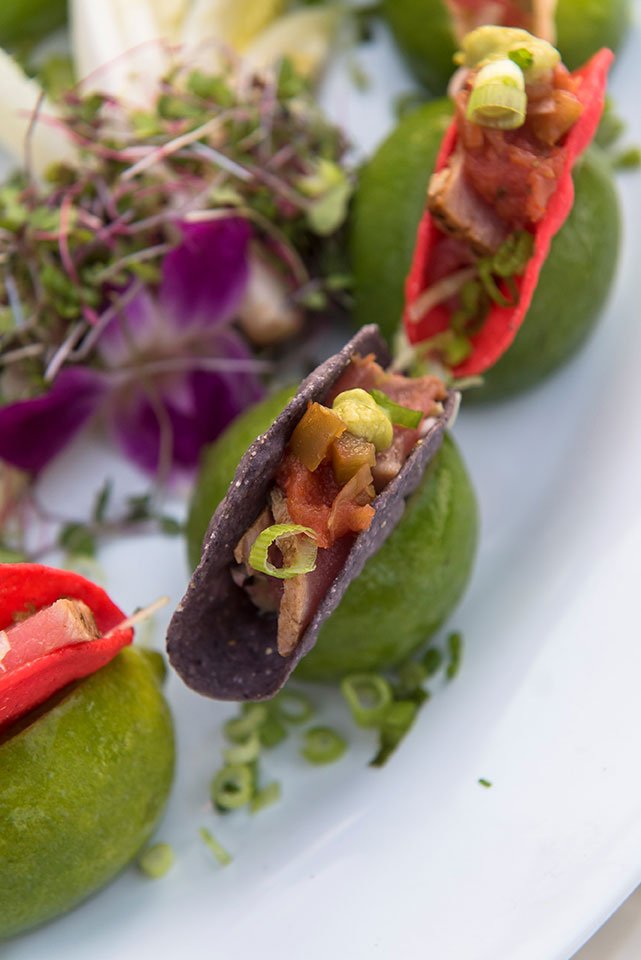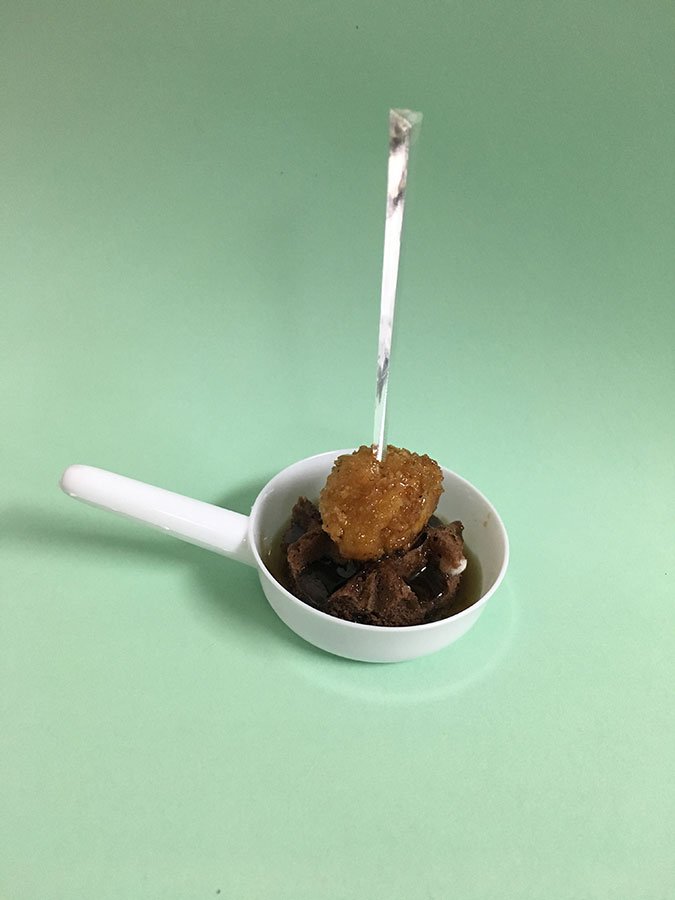 Soft pretzels are another late night snack that engages the guests' sense of smell. This doughy treat is baked on location and then hung in small batches on heated drying racks so that guests can take in the warm yeasty pretzel aroma. We serve ours with assorted mustard along with special dippers like beer cheese and smoked salmon mousse. Our Tomato Bisque Shooter with Smoked Gouda Grilled Cheese Triangles will most certainly warm your guests' souls.
Late night snacks are rolled out as a precursor to late night entertainment.  As part of this experiential movement to create an unforgettable, interactive celebration, couples are transitioning their reception spaces to host the "after-party" with the addition of some fun late night entertainment such as a DJ, dance troupe, cigar roller, roaming sketch artist and tarot card readers.
Looking for more 2019 wedding trends and inspiration? Find out how modern couples are redefining tradition and how you can make your wedding celebration a little more eco-friendly.  Weddingwire.in offers a comprehensive guide on finding the right services for you along with lots of tips and tricks!
Stay tuned for 2019 Wedding Trends Forecast, Part III COMING SOON!
Ann Jones writes for Eggwhites Catering, a Miami-based luxury catering company.