It's barbecue season! Dig into the taste of summer with our 2018 Summer BBQ catering menu! From beach and backyard barbecues to family reunions or company picnics, Eggwhites Catering is the choice for your picnic food and BBQ menu. Companies, social groups and organizations have trusted Eggwhites for over two decades with any variety of outdoor events all around South Florida including Miami-Dade, Broward and the Palm Beaches as well as in the Keys.
Nothing says summer quite like a good old-fashioned barbecue. Our grill masters are ready to create a mouthwatering family style feast! All grilled items may be grilled on-site so your guests can enjoy the sight, sound and sweet smell of smoke filling the air even before they take their first bite. Please inquire for more details.
Let us deal with the mess so that you don't have to! Our eco-friendly plates, cups and flatware are great for outdoor events. And we take the guesswork out of how much to buy, prepare and serve.
OUR PICNIC AND BBQ MENU
Our talented team is here to design your custom picnic or BBQ menu and flawlessly execute your event vision. We bring years of experience to your party so CONTACT US ONLINE HERE or call us at (305) 892-2066 for a quote.
We offer many widely popular traditional picnic food favorites which remain classic and timeless.  Don't see what you are looking for? Just ask! Keep in mind that variety is key when selecting a menu for a group. Consider meat, poultry, seafood and plant-based options along with fresh vegetables and fruit flavors of the season. We are happy to assist you to design a menu that incorporates your personal style, taste and budget.
Popular themes range from the All-American Classic, Brazilian Grill to Down-Home Southern BBQ and Key West Picnic.
ALL-AMERICAN CLASSIC PICNIC FOOD
Perhaps you wish to throw a relaxed gathering and keep the BBQ menu and decor classic and unfussy. Our BBQ masters will grill burgers and hot dogs to perfection and we will provide an assortment of toppings to appeal to all tastes. The addition of our Slow Barbecued Chicken with your choice of sauce - Bourbon Barbecue, Spicy Jerk or Lemon Garlic - will turn things up a notch! For a classic picnic perfect menu, add Creamy Cole Slaw or a simple Green Salad, Classic Potato Salad, Grilled and Buttered Sweet Corn, Crispy Potato Chips, Wedges of ice cold Watermelon and Fresh Baked Chocolate Chip Cookies!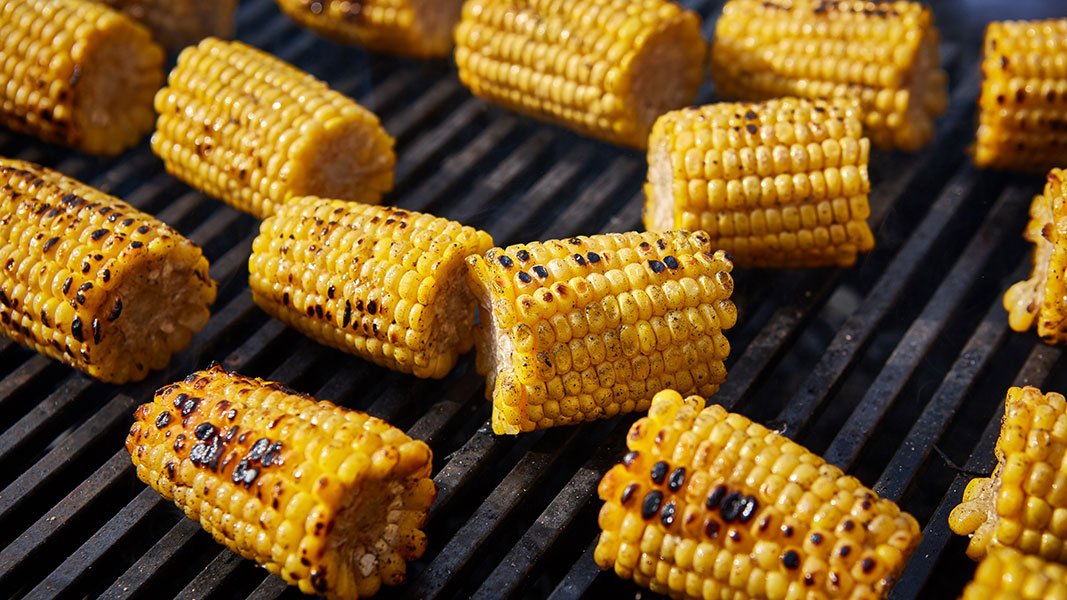 THE ALL-AMERICAN CLASSIC
Grilled to Perfection (Choose Two):
Black Angus Beef Burger
All Beef Hot Dog
Turkey Burger
Jerk Seasoned Boneless Chicken Breast
Veggie Burger
Served with Assorted Toppings
Cheddar, American and Blue Cheese, Lettuce, Tomato, Sliced Red Onion,
Caramelized Onions, Smoked Bacon, Sweet 'n Spicy Pickles,
Assorted Mustards, Ketchup, Mayo, BBQ Sauce, Hot Sauce
Tender Garden Green Salad with Balsamic Vinaigrette
Classic Potato Salad or Creamy Cole Slaw
Assorted Chips
Ice Cold Watermelon Wedges
Freshly Baked Chocolate Chip Cookies
Freshly Brewed Iced Tea,
Lemonade and Agua Fresca
Brazilian BBQ Menu
Brazilian BBQ, also known as Churrasco, is becoming a worldwide trend in barbecue. It is perfect for a summer gathering or celebration. Churrasco is a Spanish and Portuguese term generally referring to grilled meat, but the specific cut, preparation and accompaniments vary across Latin America and Europe.
Churrasco style BBQ was first introduced to the US restaurant scene in the 1950s, right here in Miami! It most commonly refers to a thin grilled steak served with a chimichurri sauce, an uncooked sauce which is traditionally made with finely chopped parsley, garlic, olive oil, oregano and red wine vinegar. Chimichurri sauce is often optional since the meat itself is so flavorful and savory. Chimichurri sauce is sometimes replaced with Ajilimojili sauce, a hot and sweet sauce from Puerto Rico or a guava rum sauce made with spices and 7 Up.
The secret to juicy, flavorful Churrasco starts with buying a good piece of meat. We grill our meat over the hottest of coals (fat side down!) to seal the fat layer. Once the meat is flipped and moved to a lower heat, the sealed fat will gradually bleed through the meat to give you the most tender steak you'll ever eat.
In Argentina and Uruguay, Churrasco is served with salad, either fried or mashed potatoes and sometimes a fried egg. In Equador, Churrasco is served with plantains, white rice, French fries, a fried egg and slices of avocado while in Guatemala, Churrasco is often accompanied by corn, guacamole, grilled potatoes, stewed black beans, rice and tortillas.
Our Brazilian Barbecue is a combination of specially seasoned meats grilled to perfection and served with our house-made chimichurri. Round out the menu with a green salad, grilled and buttered sweet corn on the cob, grilled summer squash, saffron rice and sweet plantains. Chocolate Brigadeiros and a display of tropical fruit are the perfect ending to this meal.
A TASTE OF THE KEYS
To some, the Miami summer means there is only one time and place for a BBQ – sunset on the beach! Panoramic ocean views, palm fronds and pops of vibrant color set the stage for an island-themed menu bursting with tropical flavors. Welcome guests with a tropical Rum Runner cocktail paired with Conch Fritters, Island Spiced Shrimp and local Ceviché. Close out a perfect evening with Key Lime Tartlets, Pineapple Cake Pops and Cuban coffee.
A TASTE OF THE KEYS BBQ MENU
Grilled Papaya Mango Glazed Chicken Breasts
Grilled Mahi Mahi with Key Lime Chive Beurre Blanc
Spinach Salad with Strawberries, Hearts of Palm, Shaved Red Onion,
Candied Walnuts and Passion Fruit Vinaigrette
Black Beans and Rice
Caribbean Skillet Sweet Potatoes and Plantains
Jalapeno Cornbread with Whipped Honey Butter
Fruit Kebabs with Minted Key Lime Dip
Luscious Lemon Bars, Key Lime Tartlets and S'mores Cups
Cuban Coffee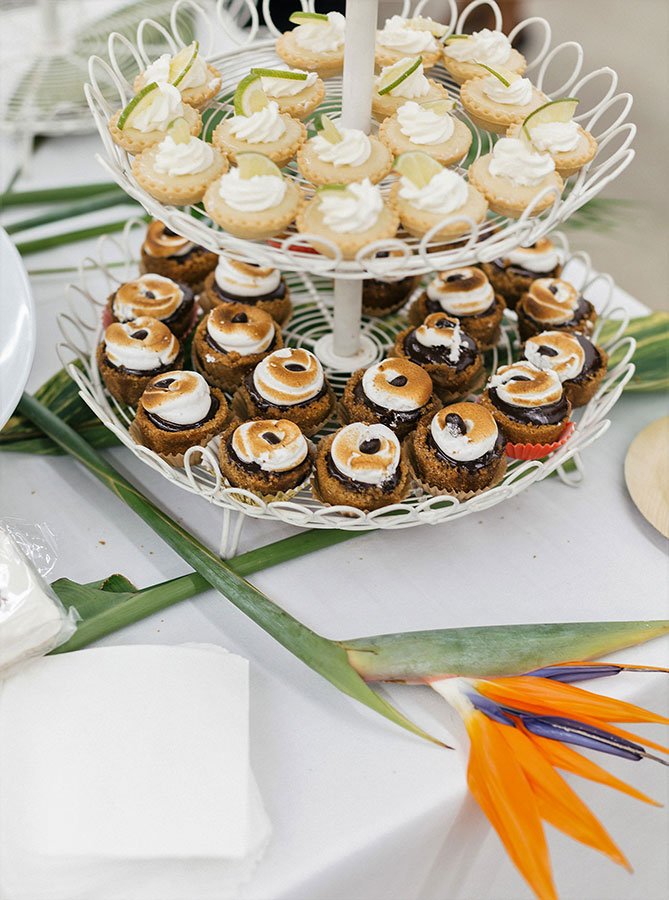 SOUTH TO EAST BBQ MENU
Koreans rival Americans in their love of BBQ. In fact it is almost unimaginable for Koreans to have any kind of outdoor event without an accompanying Korean BBQ party. So we thought we would bring together the bold flavors of Korean BBQ and down-home Southern BBQ in one smoking hot menu!
SOUTH TO EAST BBQ MENU
(Choose Two):
Slow-Cooked Smoked Brisket
Memphis Style Pulled Pork Shoulder
Korean Chicken Bulgogi
Hoisin Glazed Duck
BBQ Baby Back Ribs
Served with Brioche Buns, a choice of Buttermilk Biscuits or
Jalapeno Corn Bread with Whipped Sweet Butter
Kimchi, Sweet 'n Spicy Pickles
North Carolina, Spicy Memphis, Korean BBQ and
Sweet Chipotle Kansas City Sauces, Hot Sauce
Tender Garden Green Salad with Balsamic Vinaigrette
Asian Cucumber Salad
Korean Potato Salad
Creamy Cole Slaw
Molasses Gochajang Baked Beans or Sesame Noodle Salad
Ice Cold Watermelon Wedges
BEVERAGE PAIRINGS
Beverage selections are an opportunity to surprise and delight guests, enhance a theme or incorporate the fresh fruits of the season. Alcohol can be included in your package. Look at our CRAFT COCKTAIL AND MOCKTAIL MENUS for inspiration. Eggwhites offers an extensive selection of domestic and imported beer and wines. We can also source micro brews and wines from your favorite brewery or winery.
If you are going for an informal vibe, we can simply ice down bottles of beer, ginger beer, water, wine, juices, sparkling water and Prosecco in a galvanized bucket and let guests help themselves.
ALL-AMERICAN CLASSIC PICNIC DECOR
When it comes to an All-American Picnic BBQ, some say go gingham or go home!! That is if you feel the need to cover your tables at all. Have a little fun with the theme and go for fuchsia or green checkers instead of traditional red or blue. Or go for a modernized checkered print. If checkered print is not your thing, a textured tablecloth or runner and linen napkins are a great alternative.
Add flowers. Sunflowers add a vibrant, cheery pop of color to your picnic tables with or without table coverings.
Let us help you create a summer soiree to remember! Call us at (305) 892-2066 to plan your party today!

REQUEST A QUOTE
Ann Jones writes for Eggwhites Special Event Catering, a Miami-based luxury catering company.