WE MAKE YOUR SUPER BOWL PARTY TOUCHDOWN-WORTHY
The city of Miami is already in the throes of planning for the upcoming Super Bowl 54. We expect tens of thousands of football fans to descend on our city for this sacred event. Eggwhites is giddy with excitement as we gear up to cater a number of pre-parties, post-parties and Super Bowl viewing parties in February 2020. With our two dozen plus years of catering experience under our belts, we have provided countless Superbowl party catering services over the years.
Are you hosting a Super Bowl party? We thought we would share our best tips and advice on how to throw a touchdown-worthy Super bowl party!
HOW TO CATER YOUR SUPER BOWL PARTY
Super bowl parties fall into one of three categories:
THE CORPORATE EVENT (THE SUPER BOWL OF SUPER BOWL PARTIES)
THE PRE-PLANNED HOME OR TAILGATE PARTY
THE LAST-MINUTE GET-TOGETHER
Whether you are having friends over for an intimate gathering or planning a large bash for a crowd, there are a few common elements that make up a touchdown-worthy Super Bowl party:
LOCATION
FLOOR PLAN
FOOD
DRINK
A LARGE-SCREEN TV (OR TWO)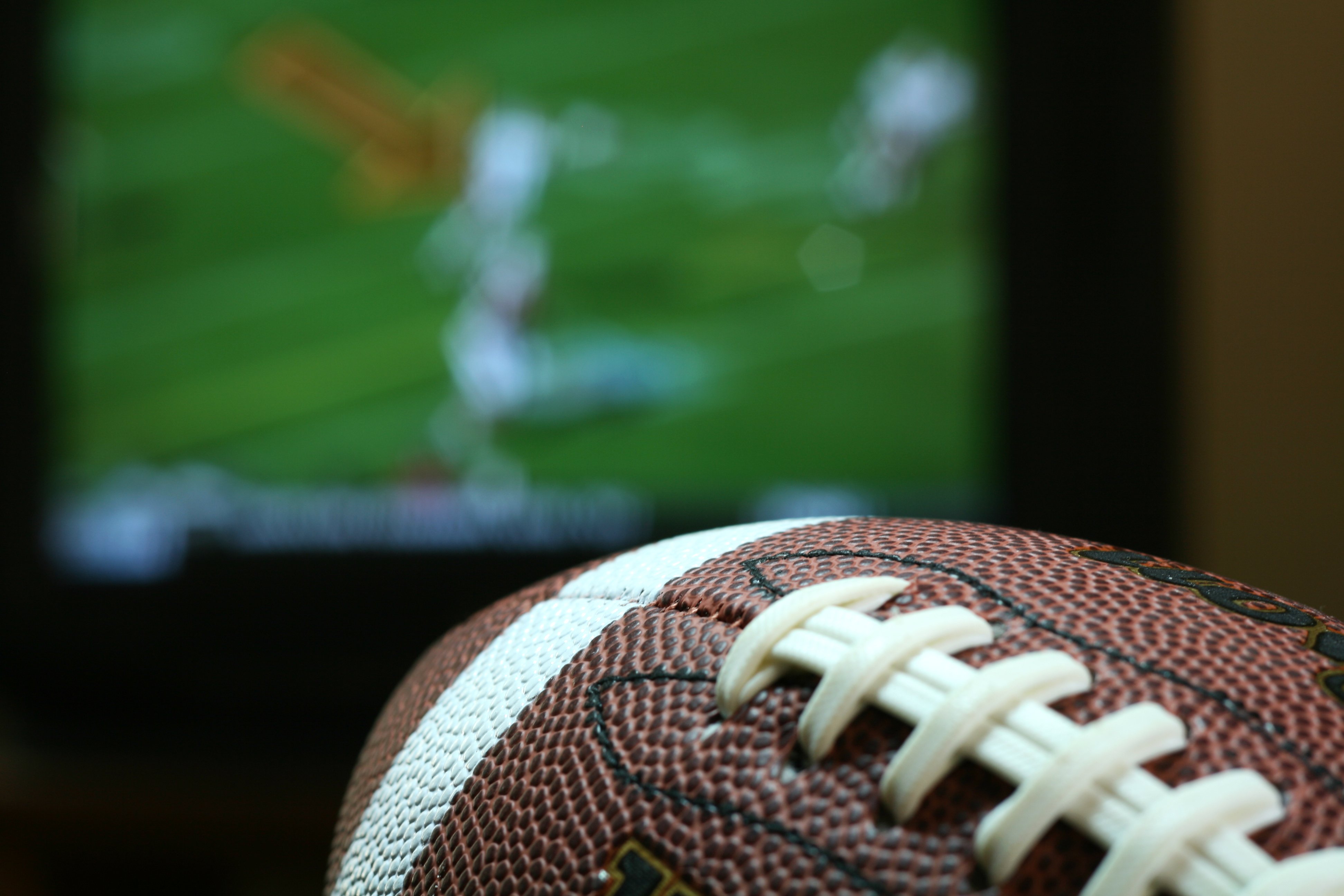 WHERE TO HAVE YOUR MIAMI SUPER BOWL PARTY
If your home or the parking lot of the stadium are not your obvious choices, Miami has a number of unique event spaces to suit your needs. Think outside the box when looking for your Miami Super Bowl party location. Tailgate party catering can happen anywhere! For example, throw a yacht party for a full Miami experience.  Eggwhites Catering can help you find the perfect location for your game-day party.
When looking for your perfect party venue, allow for ample space. Make sure everyone has a seat in front of the screen. No need to build a small stadium but there are ample ways to create sufficient seating that manages to be comfortable and complement the aesthetic of the room. Keep in mind that guests will be in and out of their seats so make sure the seating area is open so guests can freely come and go without disrupting the other loyal viewers.
Have a separate area where guests can gather to catch up away from the big screen. Not everybody considers the Super Bowl their second religion, but they still want to be a part of the festivities. Set up some lounge seating near the food and beverage for guests who need a break from the screaming-at-the-screen crew. Allow additional space for your all-important food and beverage.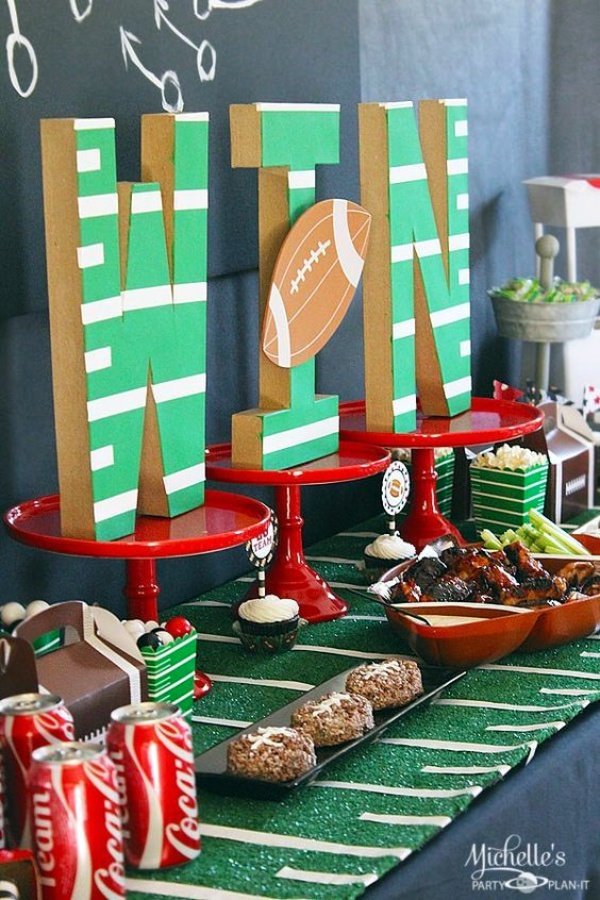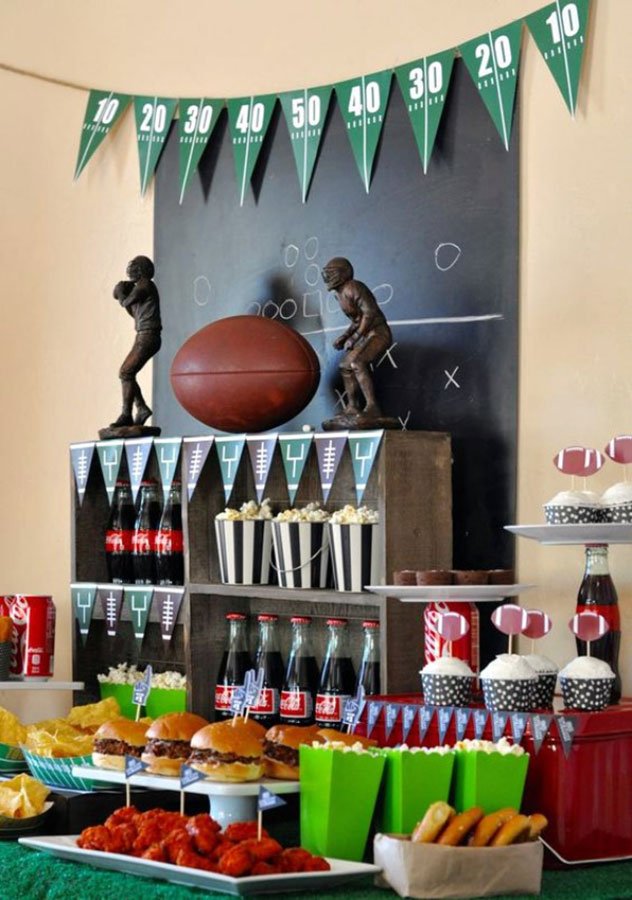 YOUR SUPER BOWL MENU SNACKDOWN
A delicious and plentiful spread is at the forefront of every winning Super Bowl party. Good food and lots and lots of snacking are crucial for your guests to go the distance watching 5+ hours of football. We love to develop a Super Bowl catering menu that incorporates signature food and drink from the regions represented on game day. Check out our recipes and Super Bowl party food inspiration for 2018's face off between the Philadelphia Eagles and the New England Patriots!
Serve your food in stages to provide the right sustenance and optimum viewing enjoyment throughout the game.
FIRST QUARTER SETS THE BAR
It's time to get the party started. Open the bar and let those drinks start flowing. Provide drinks that everyone can sip on throughout the game without committing a foul. Serve plenty of beer and wine along with non-alcoholic options. Large batches of Sangria or a specialty punch will surely get guests in the festive spirit! Create a custom cocktail in your team's colors for a unique touch.
Further show your spirit with custom beer cozies and coasters that guests can take home as a keepsake. Looking for inspiration?  Try our winning recipe for Fourth Quarter Punch (at end of post), our nod to the Miami Dolphins. It has the same aqua color as the Dolphins uniforms and it is as tropical as the Miami weather. Whip up a big batch in pitchers and serve alongside a bucket of ice.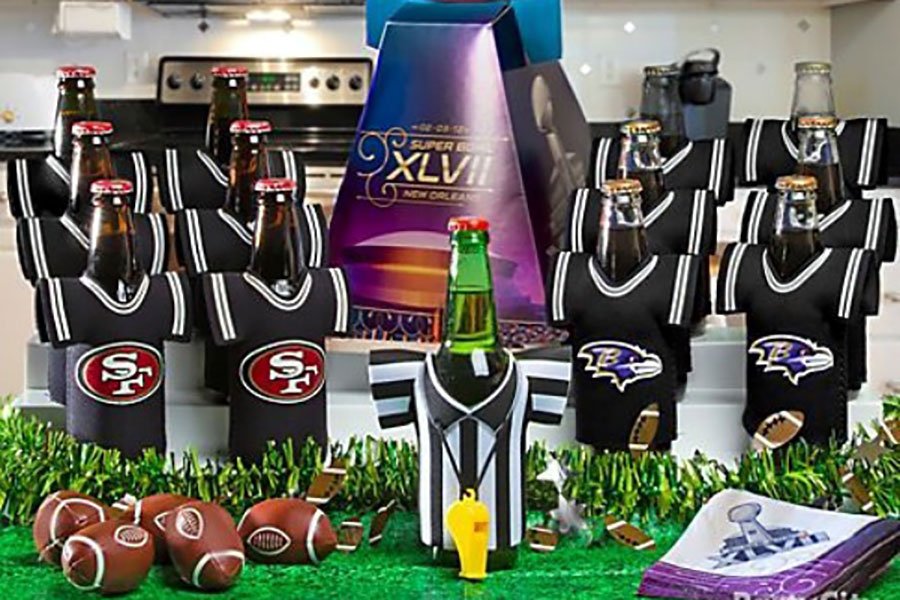 Once the bar is open, snacks are a must. Start light with easy to grab finger foods. Keep your guests satisfied with small bites that are accessible from their seats. Scatter heaping bowls of tortilla chips with guacamole, popcorn (flavored to match team colors), marinated olives and sweet 'n spicy mixed nuts around the room. Don't forget small snack plates and cocktail napkins for easy nibbling.
STEP UP YOUR FOOD GAME IN THE SECOND QUARTER
As you head towards the half-time show, mix up your menu with some passed hors d'oeuvres or small plates. This allows guests to stay in their seats but enjoy some of fan favorites prior to the main event. Score big with assorted sliders such as turkey, beef and falafel. Tip your hat to Miami with some local flair. Island Spiced Shrimp Skewers, Conch Fritters with Fiery Cocktail Sauce and shot glasses of assorted local Ceviche will turn up the heat.
THIRD QUARTER CULINARY THROWDOWN
Half-time is your time to break out the main course. Keep in mind that the game does stretch through the dinner hour so go the distance with some fun fare that serves as the main course. Fire up the grill and serve up some classic stadium fare.  Pizza is another football fan favorite. Why not surprise guests with mini grilled pizzas with assorted toppings? And don't forget the sides! Check out our Barbeque Catering post for some fun variations on a traditional barbecue catering menu.
SATISFY YOUR FOURTH QUARTER SWEET TOOTH
As the game comes to a close, serve some delectable desserts to close out your game day menu. Not only are sweets a fun and unique way to show some team spirit but also a subtle message to guests that the party is winding down.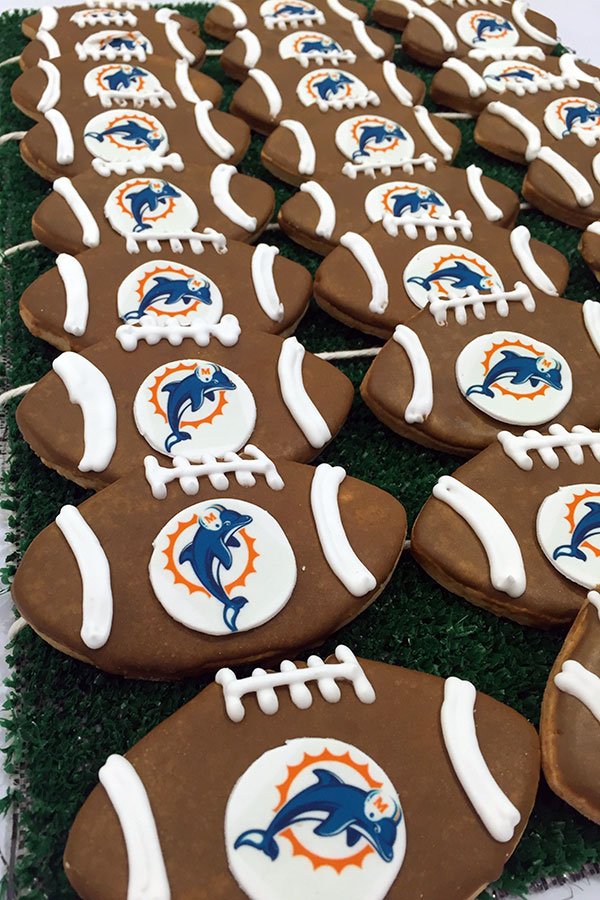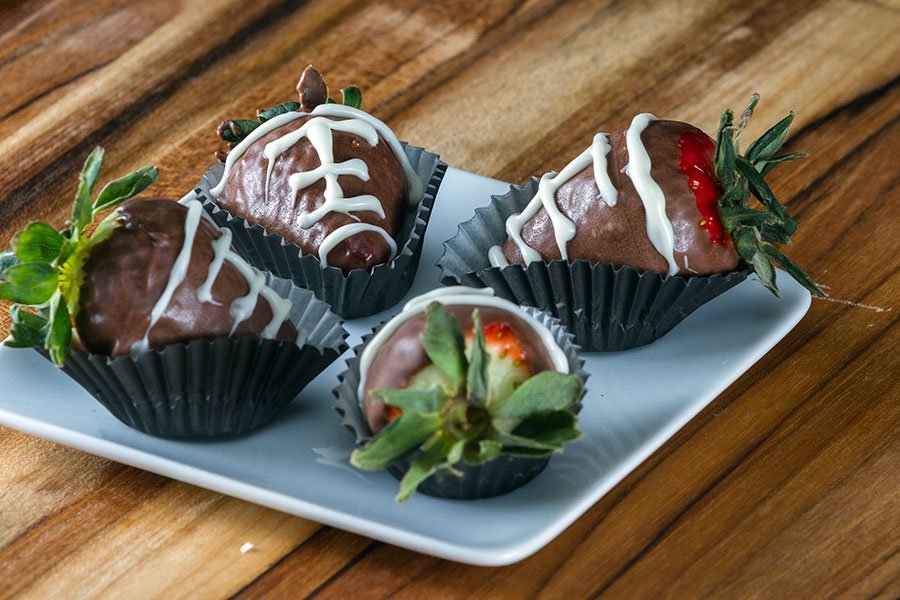 HIRE A CATERER FOR YOUR MIAMI SUPER BOWL PARTY
Planning a Super Bowl party takes a lot of time and planning. Providing food and drink for a crowd can be hard. And let's face it –Super Bowl parties tend to be one of the messiest affairs. The answer: hire an experienced caterer like Eggwhites Catering to deal with the stress and mess. As premiere South Florida caterers, Eggwhites Catering can help you plan a talk-of-the-town event. Whatever your theme or whomever your team, we will design a festive menu and party experience that will bring your vision to life. Our menus are customized to your tastes and you can expect some unexpected tastes and exciting options instead of typical, routine fare.
Make sure you check with your venue on what your catering options are. Book early, this will be a very busy time for caterers!
Think of us for your tailgate party catering needs as well!
SUPER BOWL PARTY DÉCOR
Superbowl catering allows us to be a little playful not only with our game-day catering menus but with our décor. This isn't a party that requires robust décor but it is a great opportunity to show your team spirit.  A little decorative detail goes a long way. Use astroturf to cover your food station tables, decorative trays or to create garlands. Swap regular toothpicks with football picks. Go the extra mile, decorate your buffet table with a giant ice sculpture in the shape of a football!
A bit of greenery is always a welcome addition to any space. Small succulents are less fussy than florals and they make great take home favors. Paint the pots to match your team colors or you can order pots in your team's online merch store.
Eggwhites Catering can source a variety of vessels and table décor to elevate your Superbowl Party table.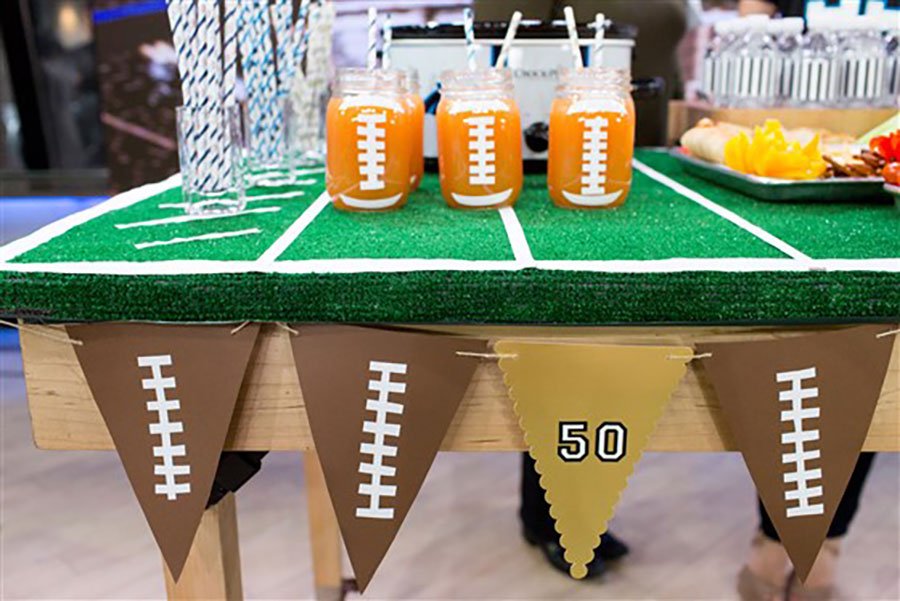 SUPER BOWL PARTY SPECIALTY COCKTAIL RECIPE
FOURTH QUARTER PUNCH
1 Serving
1 ½ oz Reposado tequila
½ oz Blue Curacao
½ oz Florida Orange Juice
½ oz Pineapple Juice
½ oz Fresh Squeezed Lime Juice
½ oz Jalapeno Agave Syrup
Mix together in a cocktail shaker with ice.
Gently shake and serve. Garnish with an orange peel.
SWEET 'N SPICY MIXED NUTS
Yield 2 ¼ cups mixed nuts, 9 servings
2 ¼ cups mixed nuts
1 tsp cinnamon
½ tsp cayenne pepper
¼ tsp chili pepper
½ tsp cumin
¼ tsp ground ginger
¼ tsp cloves
2 Tbsp brown sugar
1 ½ tsp flaky sea salt
1 ½ Tbsp butter, melted
2 Tbsp fresh rosemary, finely chopped
INSTRUCTIONS
Preheat oven to 375 degrees (F). Spread the nuts
on a large baking sheet and toast for 10 – 12 minutes.
In a large bowl toss together the spices, sugar, salt,
rosemary and melted butter. Add the toasted nuts
to the bowl and toss well to evenly coat.
Store in airtight container until needed.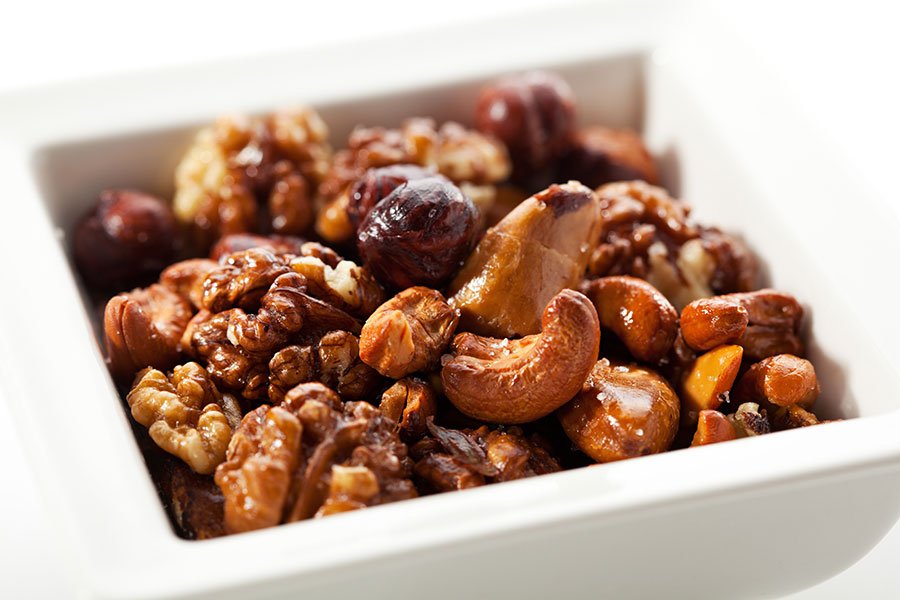 Ann Jones writes for Eggwhites Special Event Catering, a Miami-based luxury catering company.